Posted on
Local Woman Celebrates 100 Years Of Living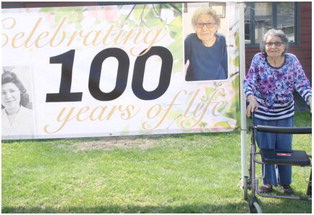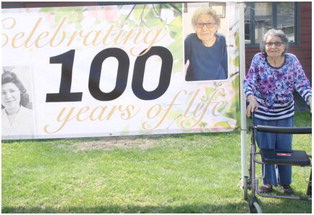 It's been quite a century. From World War II to color televisions to the internet, it's been an amazing 100 years.
If you don't believe how special these years have been, just ask local resident Louise Three Stars Smith. She celebrated her 100th birthday on Monday, Aug. 28.
Smith was overjoyed with the amount of friends and relatives — some from as far away as Washington state — who came to her special birthday party. "Some of them I haven't seen for a long time," she noted.
Although she is now a fixture in Roosevelt County, she was actually born in South Dakota. She attended nursing school in Oklahoma during the 1940s. She was selected to serve on the Fort Peck Reservation because of the need during World War II.
"They needed us up here," Smith explained. Along with her came fellow nursing student Mamie Dupree, who became Louise's best friend for many years until Dupree's death at the age of 89.
Smith served as a nurse at the Indian Health Services' hospital in Poplar for 40 years. She noted she loved helping people and she enjoyed working with Dr. Swanson.
Louise says that she met her future husband, William "Buck" Smith, at a rodeo. He was a pick-up man and bronc rider. They had four children together.
Children attending the celebration were Mike (Lorena) Smith of Wahpeton, N.D., Edna (Larry) Wetsit of Wolf Point and Paul (Corina) Smith of Wolf Point.
Louise said although she told people not to bring gifts, she received many assortments of flowers for her 100th birthday.
"I love flowers," she said. After a cancer scare a few years ago, Smith is now in good physical condition. Other than not smoking, she doesn't have any hints for living a long life.
"No, I just try to love everybody," she said.
Smith then laughed and suggested to eat tripe and buffalo. Blood lines might also be a benefit since her mother lived until the age of 96.
Smith was a resident of Poplar until moving in with her daughter Edna about eight years ago.
Smith says most of her days are spent watching TV.
"I just watch whatever is on," she said. "I like Westerns."
She also likes going on drives with her daughter Edna.
She remains active enough that she has attended pow-wow celebrations this summer.
"I just like to watch them dance," she explained.