Posted on
Montana Wheat, Barley Committee Hosts Trade Delegation From Korea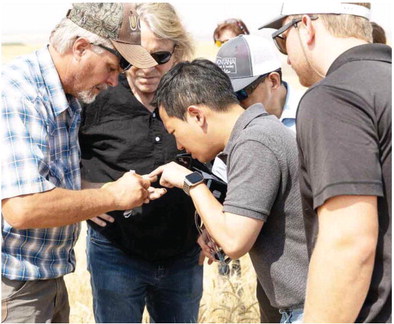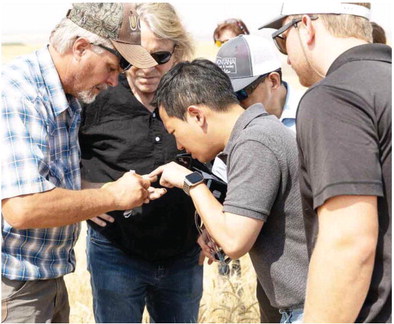 Continuing the focus on expanding market development opportunities for Montana's Wheat & Barley producers and highlighting the high-quality traits of one of Montana's top commodities, MWBC Executive Director, Kent Kupfner and representatives from the Montana Wheat & Barley Committee welcomed a trade team delegation from SPC Group Korea. Kupfner and the Korean delegation visited Lee Dahlman at Dahlman Farm & Ranch as well as the United Grain Corporation Elevator in Conrad.
SPC Group is a South Korean food company based out of Seoul, South Korea. SPC manufactures of food, bread, confectionary products, and has been doing so since 1945. SPC Group operates market- leading franchise brands such as BR Korea (Dunkin' Donuts and Baskin Robbins) and Paris Baguette. For 10+ years, SPC Group has been sourcing their high-quality grains from Montana.
"SPC Group from South Korea, mills about the equivalent of about 1,000 acres of Montana-grown wheat every day. Yearly visits from this purchasing team are structured around preparing them for this year's new crop quality and a celebration of this long-lasting partnership. The Montana Wheat & Barley Committee is honored to host this group and want to extend our gratitude to all the hard-working elevator employees and farmers who make this business happen," executive director Kupfner said.
While in the Golden Triangle, the delegation visited the United Grain Corporation Elevator in Conrad. Elevator manager Tyler Krause shared the process, quality check and route grains go through before being loaded on railcar for export.
The Montana Department of Agriculture is serving Montana Agriculture and growing prosperity under the Big Sky. For more information on department programs and services, visit agr.
mt.gov.