Posted on
Powerful Storm Causes Damage In City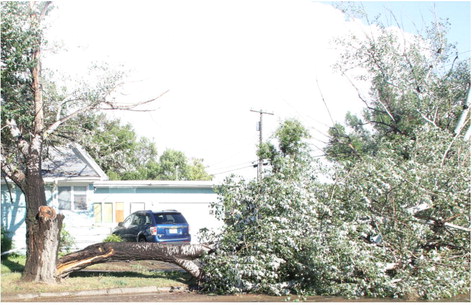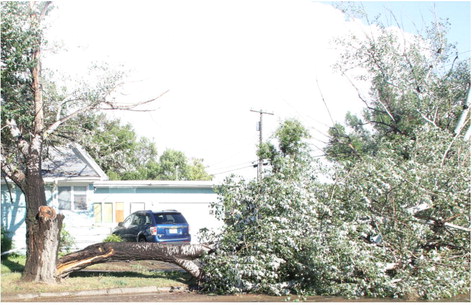 Many Residents Lose Power
A very forceful wind storm hit Wolf Point starting late afternoon on Sunday, July 30, causing damage to trees, power lines and creating power outages.
The National Weather Service said there was a report of a wind gust of 91 miles hour at the airport in Wolf Point.
Other wind reports on Sunday included 63 mph southwest of Lustre and 62 mph in Glasgow.
Angel Enriquez of the National Weather Service said Poplar reported a wind gust of only 30 mph as the storm went south of the community.
"It was really limited where the storm was tracking," Enriquez said.
The storm damaged many trees in Wolf Point and several power lines came down.
Wolf Point Mayor Chris Dschaak said a new city landfill building being constructed was destroyed during the storm.
Hail from the storm caused some property damage, as well.
Mark Hanson, MDU spokesperson, said about 400 customers were without power and 300 of them had service restored at about 8:45 p.m. on Sunday. The outages were reported along the northern portion of the Wolf Point community.
"Both the hospital and nursing home were restored last night," Hanson said Monday morning.
Seven poles total went down, along with numerous localized power lines.
Crews from Wolf Point, Glendive and Williston, N.D., worked to re-establish service. All residents were regained power by 10:30 p.m. on Monday, reported Hanson Tuesday morning.
Some residences lost water for a short time until the city's water crews worked to get the generator online.
City crews, MDU and Nemont were all doing cleanup work Monday.
Norval Electric reported that 80 meters were downed because of the storm. Areas impacted included Glasgow, Fort Peck, Peerless, Wolf Point and Hinsdale.
Norval crews started to work on the problem at 6 p.m. on Sunday and continued throughout the night.
Wolf Point's city crews worked with area utilities to help clear all trees in the affected areas first, then branched out to help clean and remove fallen trees within the city limits," Dschaak posted on Monday morning. "Any issues can be reported to the city office, and they will let the crews know. Thanks to all volunteers that are aiding friends and neighbors to help clear streets and yards."
Storm Damage
A tree on Fourth Avenue North fell due to the heavy wind storm in Wolf Point on Sunday, July
30. Many trees were damaged during the storm.
(Photo by Bill Vander Weele)