Posted on
Quarter Size Hail Strikes Culbertson During Storm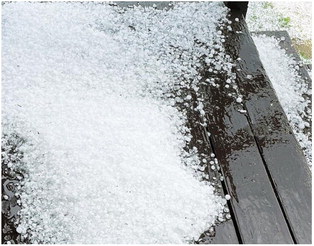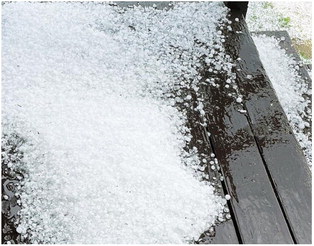 Quarter-size hail struck the Culbertson, Bainville and Froid areas in the afternoon of July 11. Damage was reported to vehicles and longtime residents told the Community News that the storm was unusually violent. Hail could be seen piled up around Culbertson for more than 24 hours after the event.
National Weather Service meteorologist Angel Enriquez said some hail was reported as large as an inch and a half. Winds in the 60 miles per hour range were also reported.
"This is the first real case of accumulating hail event since I've worked here," said Enriquez, who has been with NWSG for more than a year. He said that construction efforts on U.S. Highway 2 in Culbertson were impacted.
"Hail and rain really clogged up storm drainage and led to a brief period of flooding," Enriquez said.
He said the storm that dropped hail in Culbertson quickly intensified and dropped the majority of hail the town itself.
"It was slow moving," he said, adding that it formed in the northwest of Culbertson and moved to the southwest, continuing across Montana and into North Dakota.
NWSG reports that a separate storm closer to Glendive produced hail in excess of an inch and a half, with hail reported in Wibaux up to three inches combined with 70 mph winds.
"This is typically our severe season," Enriquez said. "Hail is more common with higher elevations but the warmer it gets over time, the more common it will become."
Enrique said the best way to get notifications is via weather radio, which can be bought at larger box and grocery stores and online. He also advises checking forecasts online and employing a radar app. NWSG issues weather information at weather.gov/ggw and via social media. Weather reports are especially importnant with hail events, said Enriquez, as the NWSG radar doesn't ready hail as far away as east Roosevelt County. "We need spotters," Enriquez said. "Weather reports help tremendously."
To report weather conditions to NWSG, call 406-228-4042.