Posted on
Top Parade Float Winners Selected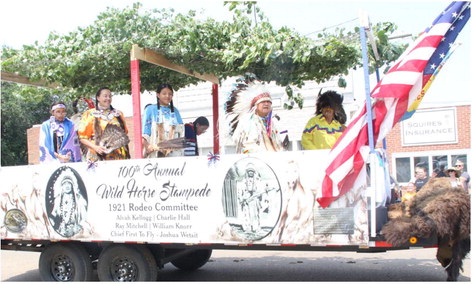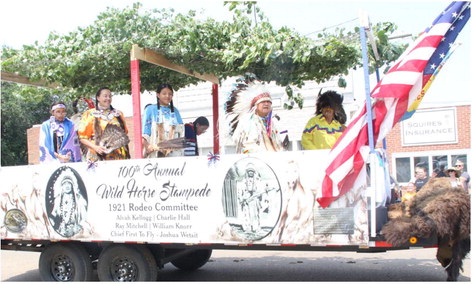 The Ronnie Jackson and Larry Wetsit families were the grand overall winners in the Wolf Point Wild Horse Stampede parade's float competition this year.
This year's parades featured 82 registered floats, 57 restored/original cars, three wagons and hitches and about 42 horses.
The top floats selected in the commercial division were Northern Prairie Realty for first, Opportunity Bank for second, LK Realty for third and NEMHS for fourth place.
The Wolf Point 100th Stampede activity committee earned top honors for best adult club.
MMIW came away with first for the best cultural heritage float. Fort Peck Community College's CANKU project earned second. The Red Bird Woman's Center placed third and Morris Tattoo took fourth.
Placing for best youth club were Junior Optimists in first and Tiny Tots Daycare in second place.
Winning honors for best restored vehicles were Jack and D'Lynn Schye for first, Smiley Johnson for second, Bert Johnson for third and Gary Johnson for fourth place.
Lenny LaCounte earned first place for best original vehicle. Also placing were Steve and Patty Berg in second, Junior and Jan Sears in third and David Toavs in fourth place.
The Weeks/Nygaard family captured the grand prize for horse divisions.
Placing in the horse division for families were Dustin Hunsaker in first, the McGowan family in second and the Birge family in third.
Top wagons were Ray Reede earned first and Gary Holman took second place.
Dave Madison won the top adult cowboy award. Top adult cowgirls were Samantha Reed in first, Davie Madison in second and Jonisa Charette in third place.
Rebecca Gorder took first place for youth cowgirl. Also placing were Lanie Holen in second, Even Reid in third and Tally Berwick in fourth.