Posted on
Longs Excited To Serve As Grand Marshals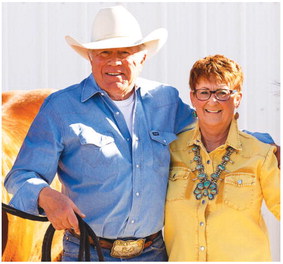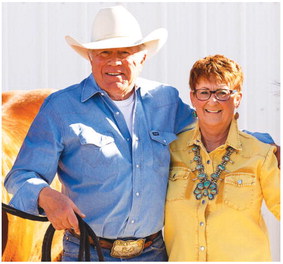 When Clint and Arlyss Long were notified that they were selected as the grand marshals for the Wolf Point Wild Horse Stampede, they said they were shocked by the honor.
"We're proud and excited to be the 100th Stampede's grand marshals," Arlyss said.
Although the Longs were surprised by the announcements, few other residents were as the couple, who have been married since 1969, have been extremely active with the Stampede and the entire community of Wolf Point.
Each of them are past presidents of the Wolf Point Chamber of Commerce and Agriculture and have served as directors since the early 1980s. In fact, Arlyss was the chamber's president during the Stampede's 75th celebration.
"It's a lifetime deal," Clint laughs about still being on the chamber's board of directors.
"We need people for the Chamber to have passion for Wolf Point and get it be the best it can be," Clint said. "And the Stampede is a big part of it."
Arlyss added about her love of the Stampede, "I just had a passion for it. I wanted it to be bigger and better every year and draw more cowboys."
The Longs served on the Stampede committee for decades until stepping away three years ago.
"It was just time to turn it over to someone else," Arlyss said of the decision. "It was time for someone else to step up."
Clint added, "We also wanted them to gain experience before the 100th Stampede."
During their many years on the Stampede committee, each of them provided their own great attributes to provide a high quality event.
Clint explains that Arylss was organized and utilized her bookkeeping skills to help the committee.
"My expertise was lining up projects and organizing the material so that when we get over there, we can do it," Clint said.
They are proud that Wolf Point features one of the top indoor rodeo facilities in Montana.
"It really looks sharp," Clint said of the arena. He thanks the Stampede committee for the on-going work.
Like the Stampede grounds, aspects of rodeo continue getting better and better.
Clint notes that rodeo has changed dramatically during the last 40 years. He says stock has changed as far as being more consistent and featur- ing more outstanding animals. "There's more of the good ones," he said.
He is especially impressed with the young calf ropers and the team ropers "Bareback riding has just gotten better and better," Clint said.
His personal rodeo experience included team roping. He also did one wild horse race. "It went pretty much as expected," he laughed. "I got on, but didn't stay on for very long."
The Longs even team roped once at an amateur rodeo. "We did all right," Clint said. Arylss added, "We missed a lot."
Other community involvement for the Longs include being church council members at First Lutheran Church and as leaders for the McCone County 4-H Club.
Clint's artistic talents can easily be seen in Wolf Point. He created the Wolf Point Stampede logo and wolf drawings for both the police department and school.
He said he has always enjoyed drawing. "I probably would have done better in school, if I wasn't drawing all the time," Clint laughed.
This year, the couple worked together to create the commemorative poster for the 100th Stampede. Items by Clint were sold during an auction to help raise funds for Stampede activities.
"I'm looking forward to meeting my old friends and visiting with them," Clint said.
Arlyss said she is excited about seeing the town being busy and full with activities.