Posted on
Fans Available To Salute John Hagen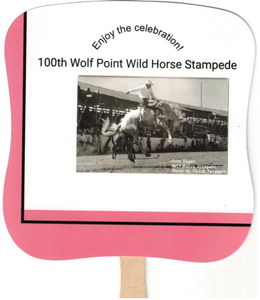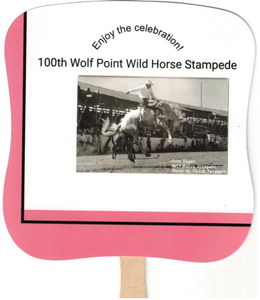 The history of Friesen's Floral and Greenhouse starts way before we opened in 1978. Our great-grandmother, Frances Hagen, went to the local flower shop, which was on Main Street (Swap Shop now) and asked the proprietors, Pode and Margaret Frazer, if they had any work for a young boy who lived down the street. They hired our uncle, John Green, years later they hired his little sister, Rita.
When Rita went away to college, they hired Mary and a few years later, Pat and Cathryn in 1974. John was named after his uncle, John Hagen.
Mary and Cathryn will be handing out parade fans with a picture of John Hagen on a bronc at the Wolf Point Stampede. Unfortunately, we don't know the year. John and his friend, Johnny Strachan of Wolf Point, kept our community in the limelight of rodeo circles.
The following is a clip from the Chicago Tribune: "Johnny Hagen of Wolf Point, Mont., reached the rodeo wrestling finals in Chicago Stadium last night by throwing a long horn in :04.4, a new western and stadium record. Hagen accomplished the feat despite a taped right hand in which two small bones were broken." He had broken them the day before, bareback riding. The previous record of :05.4, set by Johnny Strachan, had held for four years.
Just a note, his dad, our great-grandfather, George Hagen, was a print setter for the Herald-News under editors Bill Taylor, Charles Marshall and Joseph Dolin.
From the Wolf Point Herald- News: "Mr. and Mrs. John Hagen returned Saturday from Chicago where Johnny participated in the annual rodeo. In the bareback riding Johnny had the misfortune to break some bones in his right hand but came out the next day and entered the steer wrestling contest, which were the finals and threw his steer in the amazing time of :04.4 breaking the stadium record. A new record was made in the Chicago Stadium four years ago and the co-holders were Herschal Ross, Buck Jones and Johnny Strachan, with a time of :05.4. The two Johnnys from Wolf Point kept the town in the limelight in rodeo circles and Johnny Hagen's many friends are congratulating him on his record time to break the Chicago Stadium time which was held for four years. John's time is quite a target to shoot at and it's our guess that it will stand for quite some time."