Posted on
Cowgirl Sweethearts To Entertain At 100th Stampede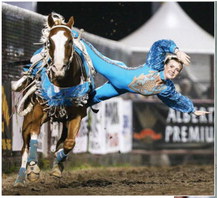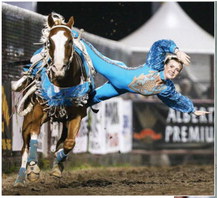 The Cowgirl Sweethearts will entertain the rodeo fans with their trick riding during this year's Wolf Point Wild Horse Stampede.
The entertainers are Shelby Pierson and Haley Proctor.
Pierson is 23 years old and lives on her family's cattle ranch in southern Alberta. For the past 15 years, she has taken her fast-paced, high-energy act to some of the greatest professional rodeos all across North America. One of her greatest accomplishments was being named the Canadian Professional Rodeo Association Contract Act of the Year four times.
Shelby is also a top five PRCA Dress Act of the Year nominee, a three-time Canadian trick riding champion, and in 2015 she traveled to Australia as a part of Team Canada where she was crowned the Australian Trick Riding Champion.
When not trick riding, Shelby attends university where she is currently working toward her double degree in English and education with the hopes of becoming an elementary school teacher.
Haley Proctor was born and raised in northeast Oklahoma. She began trick riding at the age of four egging her uncle four-time NFR contract act Shawn Brackett to teach her the trade.
A passion for trick riding and the performing lifestyle developed at a young age for Haley when she had the opportunity to travel with the Great American Wild West Show to some of the greatest rodeo venues in the country.
She was blessed with the opportunity to work with legendary trick riders at a young age, where she was able to learn and hone her craft.
Haley was nominated as the three-time top five PRCA Dress Act of the Year, has performed at venues such as RFD-TV's The American, Pendleton Round Up, Ellensburg PRCA and Xtreme Bulls Finals and more.
She was crowned the 2007 World Champion Trick Rider, competed in the 2016 North American Trick Riding Championships in Las Vegas and played a role and performed stunt work in the films Cowgirls and Angels, the Cowgirls and Angels 2: Dakota's Summer.
Haley is known for her trick riding, roman riding and high schooled liberty acts, where she is also proud to display her Cherokee heritage throughout the show. She is always expanding her talents, and constantly keeps the crowd at the edge of their seats.