Posted on
100 Club Offers Chair-ity Auction On Friday, Raising Funds For Healthcare Facilities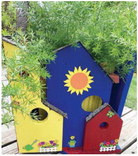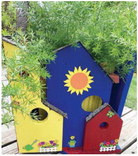 With the goal of supporting local healthcare, the Wolf Point 100 Club is holding its third annual "chair-ity" and fun yard art auction at Sherman Park on Friday, July 7, after the parade.
Funds raised will help the 100 Club purchase medical equipment for health care facilities including Faith Home, Trinity Hospital, Listerud Rural Health Clinic, Wolf Point Pharmacy and Emergency Medical Services.
"This is truly a community event because all the money earned stays in the community for the hospital and things," Cathryn Wylie, one of the event's organizers, said. Other organizers of the fundraising event include Cindy Hanks, Tacy Strand and Beth Pickthorn.
Organizers note there are many very nice items up for auction this year including some that are small enough for out-of-town participants to take home.
There were more than 20 auction items listed last week, and some local artists were still working on additional donations.
An added treat is resident JoAnn Heser will have some of her delicious and famous cookies available for sale.
The Wolf Point 100th Club was founded in 1980 with the goal to assist in purchasing added medical equipment area health care facilities.
Thanks to the generosity of the area, the club raised $20,053 during 2022. That amount is an increase from $19,006 of 2021.
Membership tiers include $100 for bronze members, $250 for silver members, $500 for gold members and $1,000 for platinum members.
Wylie said the organization's goal is always to get 100 members, but with the 100th Stampede a higher figure would be fantastic.
"Come and have fun and see what the 100 Club is about," Wylie said.