Posted on
Red Bird Woman Center Wins Community Leadership Honor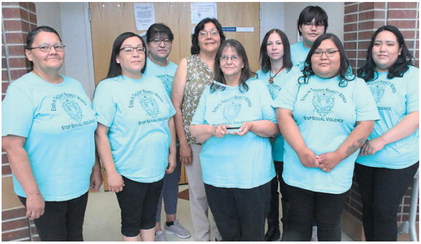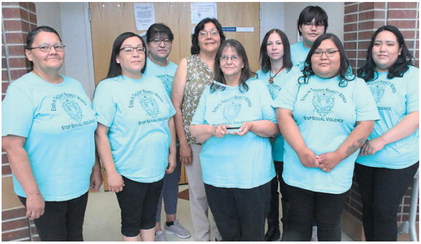 FBI Honor
Only 56 individuals or organizations received the FBI Director's Community Leadership Award in 2023, and one of the honored winners was the Fort Peck Tribes' Red Bird Woman Center/Children's Advocacy Center.
The Red Bird Center was the recipient for the Salt Lake City Field Office which covers all of Montana, Utah and Idaho.
During a ceremony at the Fort Peck Tribal headquarter on Thursday, June 22, acting special agent in charge Cheyvoryea Gibson said, "They are most certainly well deserving of it. The things they do on a dayto- day basis would wear most people out."
The Director's Community Leadership Award is a prestigious award presented annually to one recipient in each of the 56 FBI field offices. Created in 1990, the award honors individuals and organizations for their efforts combating crime, terrorism, drugs and violence in America.
Susan Parker, program director for Red Bird, was presented an award during a national ceremony held for all the recipients in Washington, D.C., during May.
The Red Bird Woman Center/ Children Advocacy Center is the primary child victim service agency on the Fort Peck Indian Reservation, serving all FBI child victims involved in sexual abuse crimes. The center's adult advocates are often the first responders to sexual assaults and rapes.
The center promotes the preservation, intervention and healing for victims of sexual assault and family violence to create healthier lifestyles. The center is one of the few tribal children's advocacy centers in the nation.
During the ceremony on Thursday, Parker thanked the Tribal Executive Board and her staff members. Parker noted it takes collaboration and team work to accomplish tasks. The award happened because of the collaboration and team work.
FBI director Christopher Wray said in a statement, "This year's honorees have changed the lives of countless people. You're on the front lines of improving relations between law enforcement and the communities we serve."
He added, "If we in the FBI have learned anything, it's that partnerships are critical to our success. We have to work shoulder-to-shoulder with our law enforcement and intelligence partners here at home and overseas. But we also have to work closely with the citizens we serve. As leaders in your communities, you know the problems facing your community better than anyone. We all have the same goal - to keep our communities safe - and the best way to do that is by working together."