Posted on
Red Bottom Event Returns, Sees Strong Attendance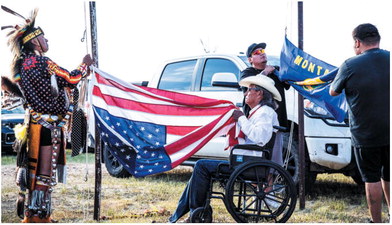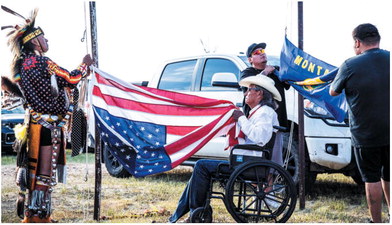 The 120th Red Bottom Celebration in Frazer is in the books. Along with the Red Bottom committee, the celebration was hosted and emceed by Tommy Christian and Martel Reum.
The arena director was Justin "Chicken" White. Leon Old Elk-Stewart was head man and Cher Old Elk-Stewart was head woman. The host drum was Wooden Face.
Dance categories included fancy, grass and jingle, with age groups including men, women, teen boys, teen girls, junior boys and junior girls.
Grand entries were held Friday evening, Saturday afternoon and evening and Sunday afternoon. Cash prizes were paid out to category winners.
Lance FourStar noted that many individuals participated in bringing Red Bottom to life this year: "The 2023 Red Bottom Celebration was the result of a year long effort by flag bearer Mason Runs Through and drum keeper Kris FourStar's leadership, along with a solid group of committee officers, especially treasurer Michael Turcotte. The working committee and senior advisors are continuing a promise made by Old Walter Clark, who made a promise in 1903 to the Creator that he would feed the people and put on a celebration if his son was healed. This miracle happened and there has been a celebration that has now spanned 120 years. The Red Bottom Celebration is world renowned and attracts the best dancers in all categories who dust off their regalia for one of the first celebrations of the season, re-awakening muscle memories and bringing a uplifting amount of energy to heal the people. The Red Bottom Clan continues to survive."
The Fort Peck Tribal jail allowed community service workers to be signed out and signed back in under the supervision of FourStar, Anthony Sifuentes, Amos Hawk and Tressa Welch.
Buffalo hunt fundraiser winners included Tim Thompson, who won the first prize. Sharon Plant won a star quilt and Jeremy Christensen won $100.
Dancers traveled from far and wide to participate, with many camping at Frazer for the weekend. Committee member and Roosevelt County Commissioner Gary Macdonald said the celebration was especially memorable.
"The grand entries were really great," Macdonald said. "The whole weekend went great. I visited with a couple of the committee members Sunday and they were very pleased. It was a beautiful powwow. Good dancing. The weather even cooperated."
For information about next year's celebration, call 406230-1119 or 406-599-1623 or visit the group's Facebook page.