Posted on
Officials Organize Interagency Emergency Exercise Held In Poplar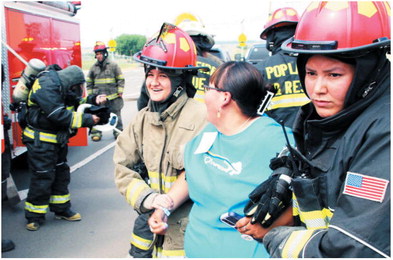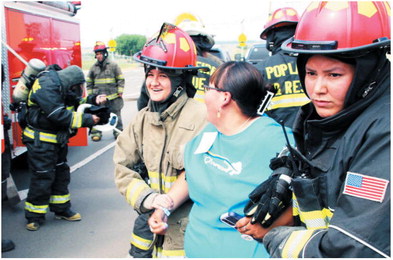 Roosevelt County Disaster and Emergency Services Coordinator Lindsay McNabb led an exercise of area fire, police and EMS personnel in Poplar June 13.
Participating individuals and emergency services staff gathered across U.S. Highway 2 from Poplar High School to reenact an emergency event with volunteer actors playing injured people. Staff employed an Emergency Operation Plan with agencies collaborating in real time regarding security, site control and logistical support of the kind that may be needed during a larger scale emergency involving multiple victims or injured people.
McNabb said that it went really well. "We got training that everyone needs," said McNabb. "Communications is always an issue so it's good to practice. It helps to have hands-on experience."
McNabb said the fictional event was supposed to be an unknown explosion at the school. "It helped the school practice their reunification plan so students can get to their parents in an emergency." She said she has been planning the exercise for two years. "It was my first one, so I was nervous," McNabb said. "But it went great. I'm going to try and host an exercise every other year, with tabletop exercises on off years."
Participating agencies and organizations included the Local Emergency Planning Committee board, Fort Peck Tribes DES, Poplar Schools, 911 Dispatch, NEMHS staff and ambulance services, Indian Health Service, Roosevelt County Health Department, Poplar Volunteer Fire Department, area businesses and area law enforcement.
DES is an integrated effort to prevent or minimize the seriousness of emergencies and disasters and to plan and coordinate the community's response to those emergencies and/or disasters. Call 406-653-6246 or visit the group's Facebook page for more information.