Posted on
McIntyre-Led Mural Goes Up At Medicine Creek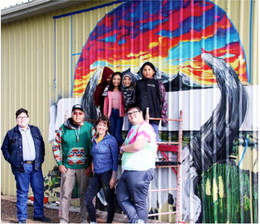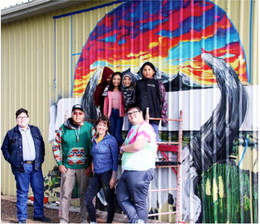 Artist and educator Cathryn McIntyre and volunteers from Bigger Sky Kids after school program have added another mural to their list of completed projects. McIntyre has become one of the most prominent players in a growing trend toward vibrant signage designed by area artists on the Hi-Line. McIntyre has completed several murals with volunteer artists in the Glasgow area, Malta, Frazer and elsewhere. McIntyre will utilize an approximately $3,500 budget for the mural, provided via Bigger Sky Kids from the Western Bank of Wolf Point Legacy Fund at the MT Community Foundation, Artist Chelysa Owens-Cyr who will be doing her own mural later next month with an additional $2,500 in funding. Funding for the projects have also been provided by building owners.
McIntyre said her budding sideline as a mural artist was unexpected. "As a traditionally trained fine artist I had never foreseen myself adding 'muralist' to my wheelhouse," she told the Northern Plains Independent, "but when given the opportunity to paint the underpass in Glasgow in 2021, the need and overwhelming appreciation for public art in our area was made clear to me. Many of my Bigger Sky Kids came over to make individual additions to that mural through a field trip made possible by the organization. That initial project opened the door to other murals in Glasgow in 2022 and has fueled ongoing interest among business owners along the span of Highway 2, leading to the undertaking of this project with Medicine Creek and a simultaneous mural at the Villa Theatre in Malta. When Medicine Creek owner Al Pipe reached out to express his interest in hiring me for mural work this past winter, I of course mentioned the project to BSK President Char Matevjowski, who was immediately on board and began looking for possible funding sources."
McIntyre said the support from BSK and other sources helps makes the mural work rewarding.
"One of my favorite aspects of the program is their ongoing support of the work I do with the kids and their 'can-do' attitude in looking for new ways to allow for increased opportunities for us to work together."
To learn more about BSK after school offerings, visit biggerskykids.org.