Posted on
Froid High School's Graduation Features 10 Students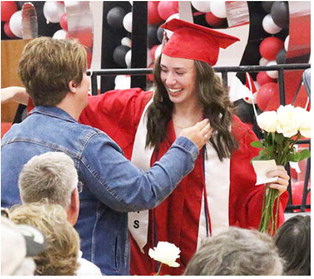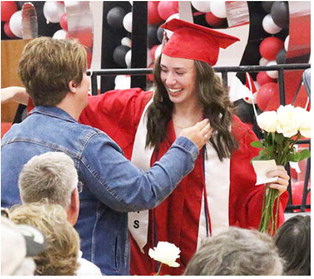 The community of Froid along with visiting family members and friends gathered in honor of 10 Froid High School graduates on Saturday, May 20. Froid's class of 2023 included Patton Bighorn, Carolyne Christoffersen, Baylee Davidson, Makaylee Elvsaas, Max Engelke, Trevor Goff, Xavier Gregor, Elise Logan, Dasani Nesbit and Alyssa Nordlund.
Valedictorian Carolyne Christoffersen thanked staff, parents and the community for the support she received during her 13 years of attending school in Froid. She said that each of her classmates had their own unique experiences. She noted they have learned through each student's highs and lows.
Christoffersen urged students to adopt the PACE (Positive Attitude Changes Everything) philosophy. She explained that her constant need to be perfect hindered herself. Although she still struggles with negative thoughts, her advice is don't hide in fear of failure.
Salutatorian Makaylee Elvsaas said she is thankful for Froid's caring community and for her father's support. She discussed how change isn't always easy, but it isn't as bad as your mind thinks it will be. She said high school shouldn't be considered the best time in a person's life, but the experience prepares students to overcome future obstacles.
Guest speaker Duane Larsen said the graduating class was one of the reasons that he returned to the classroom after retiring in 2020. He described some of the strong characteristics of the students.
He talked about the students' extra-curricular successes for many activities including football, volleyball, boys' basketball, Business Professionals of America, speech and drama, music and track.
Students graduating from eighth grade were Jordyn Breuer, Elias Heller, Ezekial Heller, Haven Martensen, Leah Murray, Avrie Nordlund, Isabelle Nordwick, Eduardo Orozco, Emmersyn Slechta, Kiera Stentoft, Ryder Westlund and Rylan Young.