Posted on
Rilee Beston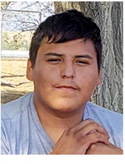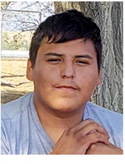 Rilee Joseph Beston, "Eagle Circles The Enemy", 23, died May 6, 2023, in Wolf Point.
He was born on April 25, 2000, in Wolf Point to Janeen Firemoon and Darrell Beston Sr. He grew up in Frazer. He graduated from Frazer in 2018 and attended MYCA in Dillon, Class 38.
He enjoyed basketball, baseball, fishing, cross country, track, taking his baby girl swimming, video games, construction work with his dad and brothers and getting wood for his mom.
He moved to North Dakota with his brother Trenton, where they both had families of their own. He worked for Friesen Construction, Jason's in North Dakota where he worked his way up as supervisor and worked at United Quality.
On Oct. 8, 2020, his baby girl was born.
He would love to call late or early in the morning just to check on you or say "I'm bored, what are you doing?" or "Ma, Sis, Pops, how do you cook this?".
He is survived by his parents, Janeen Firemoon and Darrell Beston Sr.; brothers, Darrell Beston Jr., Aaron Beston, Evan Beston and Jamie Beston; sisters, Brittani Beston, Tyra Overton, Shania Lutes, Pamala Beston and Londyn Rattling Thunder; daughter, Octavia Rose Lynn Beston; grandparents, Joseph and Shari Beston, Veronica Firemoon and Arthur Adams; He held a special place in his heart for Eragon Yellow Robe, who helped raise as a baby.
His funeral service was held Friday, May 12, at the Oswego Community Hall. Rilee will be laid to rest next to his brother Trenton and nephew, Enright Beston at the St. Joseph Cemetery in Frazer.