Posted on
MSU Spotlights Work Of Northside Students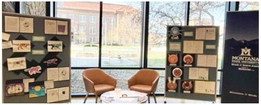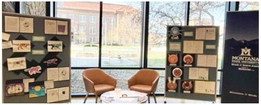 A wide audience enjoyed the art work of Northside Elementary School students from Wolf Point recently.
The students' artwork was created during the HEART project. It was showcased last week at the Native American Hall on the Montana State University campus in Bozeman.
Northside's students worked on several projects throughout the year and those items were displayed in the foyer of the hall.
The display will stay up all week for students to enjoy as they prepare for finals and will continue to be on display as families descend on campus for graduation.
The pieces of art stayed up throughout the week for students and families to enjoy prior to graduation.
People were encouraged to leave a message for the Northside students to be shared with the children.
One MSU student said, "It is so great to see the beautiful art work that students have created." Another student from Crow noted, "It is encouraging to see the artwork displayed while I am studying for finals. It reminds me of when I was younger and how far I have come toward making my own dreams come true."
A faculty member of MSU added, "This is what it is all about, highlighting the work that students of all ages across Montana are creating. Every student has a home here at MSU."