Posted on
Wolf Point Students Prepare For School Play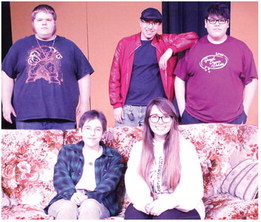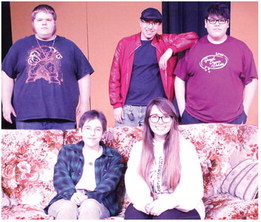 Residents can expect a night of laughter when Wolf Point High School drama students present the classic play Arsenic and Old Lace on April 27-28 starting at 7 p.m. each night in the school's auditorium.
"The kids are doing great. They are easy to work with," director Jacob Boysun said.
He is excited that 14 students are involved in the production. David Hopson is serving as assistant director.
Among the young actors and actresses playing lead parts are Julianna Garfield as Abby Brewster, Audrey Weinberger as Martha Brewster, Del Eymard as Teddy Brewster, Tavian Bell as Mortimer Brewster, Chase Adams as Dr. Einstein and Ryan Schumacher as Jonathan Brewster. The only seniors in the cast are Garfield and Trevin Boysun.
The group includes many members of Wolf Point's successful speech and drama program.
Tavian Bell is going from being a mime for speech and drama to a character with 200 lines.
"That's a big switch," Jacob Boysun said.
The students built the set including painting the walls.
The play was on Broadway in the 1940s and a film was made based on the play by written by Joseph Hesselring later in that decade.
"It's a pretty popular play," Boysun noted. "It's my favorite of all time."
He explained there are many humorous characters in the performance.
"It's a house full of crazy people," he said. "There's not a serious character in the play."