Posted on
Ahneman-Wolff To Attend Harvard Program, Marines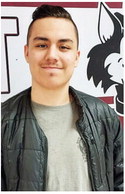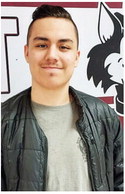 Wolf Point High School senior Dominik Ahneman-Wolff is planning to have a productive, busy next few months.
Ahneman-Wolff is one of seven Wolf Point students who have been selected to take part in Harvard University's Edwin Furshpan and David Potter Native American High School program on June 10 to July 1.
The three-week program provides the opportunity for students, teachers and community representatives to learn about the science of substance abuse and addiction. Students attend lectures, participate in smallgroup, case-based learning sessions, do homework assignments, and present a final project demonstrating what they have learned and how it might be useful to their home communities.
He said both current teacher Douglas Evans and former local teacher Anthony DeRosa assisted him in completing the application for the program. DeRosa is a former Marine and a role model to Ahneman-Wolff.
After attending the program, Ahneman-Wolff will enlist in the U.S. Marines. He hopes to one day have a career in a medical field.
"The medical field and military service have always interested me," Ahneman-Wolff said.
Although he looks like he is on the right path in life at this point, he admits that wasn't always the case. He said a turning point came on New Year's Day this year.
"I woke up one day and wanted to get my life turned around," he explained.
His favorite class is English taught by Evans.
"I'm really good at writing papers," he said.
He picks Dan Horsmon as his favorite teacher. "It's hard to pick a favorite, but he's cool," Ahneman-Wolff said.
Outside of school, he works in the deli at Agland. His duties have included making pizzs, handling chicken, putting meats on sandwiches and making sure there is enough food available.
"I enjoy cooking. It's good, honest work," he said.