Posted on
Wolf Point's Payne Earns State Teaching Awards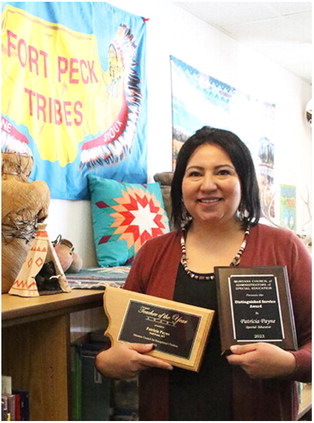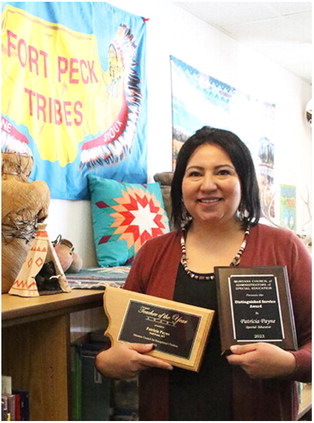 Wolf Point special education teacher Patricia Payne has been recognized as being the top of her profession as she recently received two education honors for the state of Montana.
Payne, who has taught in Wolf Point for eight years, earned the Distinguished Service Award from the Montana Council of Administrators of Special Education and the Teacher of the Year honor from the Montana Council for Exceptional Children.
For the Teacher of the Year award, Payne was nominated by Northside Elementary School principal Georgie Gourneau.
"This is really excellent to see someone from our community achieve such a prestigious award," Gourneau said.
She noted that Payne has made a positive impact since being transferred from the high school to Northside at the beginning of this school year.
"She came over with a good attitude," Gourneau said. "She was very determined to help."
Payne became part of Northside's leadership team. With her experience regarding Indian Education for All, she was a leader planning Native American Week and the district pow-wow.
Payne has also been a positive impact with changing the special education curriculum at Northside. During intervention meetings, she has made both parents and students comfortable with setting goals for academics.
Sixth-grade teachers Andrew Tumonong and Ronnell Tumonong wrote letters of recommendation in support of Payne for the award.
"As a sixth-grade team, we're very strong at the school," Payne said.
One accomplishment this school year was having students reach the beginning sixth-grade reading level after beginning the year at the firstgrade level.
For the Distinguished Service Award, Payne was nominated by parent Phoebe Blount, a student and two former high school colleagues.
"I am very honored and humbled to have won these awards," Payne said.
Her 14 years of teaching experience includes seven at Wolf Point High School and the current one at Northside Elementary School.
After receiving notification of winning the award, she was grateful to have her mother, two sons and older sister at the conference for the awards ceremony.
"When I received the award, I had a lot of emotions. I was happy, I was excited, I was crying," Payne said.
She is proud to represent her tribe and her family.
"I'm so appreciative. I'm still in shock," she noted.
Payne explains she stresses to her students the importance of setting goals and the value of education.
"I was just a little Native girl who went to school and graduated from Wolf Point," Payne said. "The path that education has led me has been one of the greatest accomplishments that I chose in life."