Posted on
Silk Works For Success At School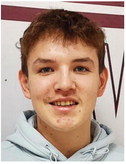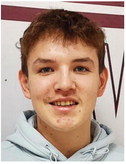 Wolf Point High School senior Kraven Silk finds the most at home on the basketball court.
Although he is a threesport athlete, Silk says that basketball is certainly his favorite athletic activity.
"I grew up playing the sport at a young age," the honor roll student explained. "It brings a nice bond with familiar faces." In track, Silk likes to compete in sprints and relays.
Although football wasn't one of his favorite sports, he said he had fun playing for the Wolves.
He says his role model is his father, Cory Bouldin.
"He's the one who taught me good things in live," Silk said.
In the classroom, Silk said his favorite class is college composition taught by Douglas Evans.
"I like to hear Mr. Evans go off on us. He's a good teacher," Silk said.
Silk feels the friendliness of Wolf Point makes it a special school.
"It's a great school because it shows that I belong here and others can also come here and belong and become Wolves," Silk said.
After high school, he plans to attend Montana Tech and study engineering and business design. His glad is to become an electrical engineer.