Posted on
Red Hawks Open Tourney With Win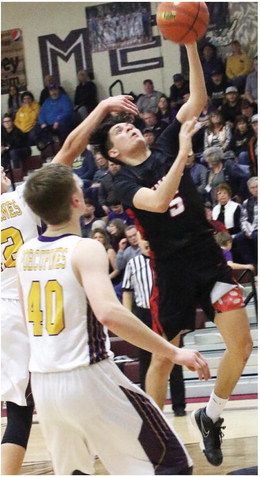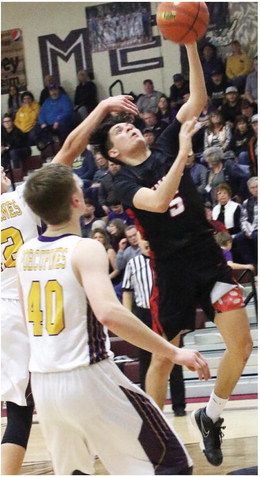 The Froid/Lake Red Hawks picked up their intensity in the second half and downed Nashua, 48-32, in the first round of the Eastern C divisional boys' basketball tournament in Wolf Point on Thursday, March 2.
Nashua's Grady Nielsen scored the last six points of the first half to pull the Porcupines to 16-15 at intermission.
The Red Hawks opened the third quarter with the opening 12 points to take control of the contest. Patton Bighorn started things off with a drive and then hit a three-pointer for the Red Hawks.
Nate Stentoft scored off a long pass from Mason Dethman for a 23-15 advantage. Five more points by Bighorn, including another three-pointer, put the margin at 28-15.
A 14-footer by Max Engelke and a drive by Dethman helped the Red Hawks to a 32-22 lead at the end of the third quarter.
After Nashua's Damon Adkins connected from threepoint range, the Red Hawks responded with the next six points on a drive by Bighorn and two inside hoops by Dethman for a 40-26 lead with 5:11 left.
Froid/Lake ran off eight straight points late in the game on two baskets by Dethman, a hoop by Joey Boyd and a drive by Stentoft.
Top scorers for the Red Hawks were Dethman with 15 and Bighorn with 14 points. Also scoring were Engelke with six, Boyd with five, Stentoft with four, Landen Kelm with two and Caden Kelm with two.
Dethman accounted for 14 rebounds.
Leading Nashua were Nielsen and Kevan Viste with nine points each.
The Red Hawks led 9-4 at the end of the first quarter and a three-point play by Boyd, off an assist from Dethman, increased the gap to 12-6.