Posted on
Lustre News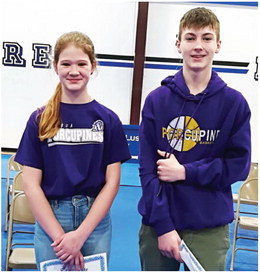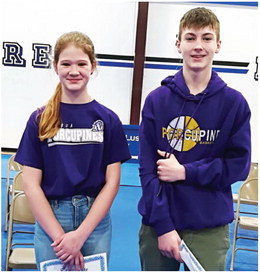 The Valley County Spelling Bee was held Tuesday, Feb. 28, 10 a.m. at the Lustre Christian High School gymnasium on a cold and blustery day.
Students were allowed to ask for the pronouncer to say their word again, ask for the language of origin, ask if there was an alternate spelling and to use it in a sentence, ask to define the word by the parts of speech it served, or to ask for a definition of the word in the spelling bee. There were two judges and 20-minute breaks between rounds.
Mr. Prince's third and fourth graders each recited spelling jokes to break the tension before the practice round. Each student competing introduced themselves to the audience of parents, grandparents and teachers according to their assigned places.
There were 10 students left at the end of round two and four students left at the end of round three.
Ellie Laumeyer of Nashua was the winner of the one word spell-off between firstand second-place spellers.
Jackson Abern, grade eight, of Nashua placed second and will be the alternate to the Montana State Spelling Bee to be held in Bozeman on March 11. Third place was claimed by fifth grader Coleman Hilkemann of Lustre and fourth place taken by Zayen Hentges of Frazer. Justin Schiller of Lustre placed fifth.
The 25 students qualifying from their schools to compete in the Valley County Spelling Bee were Adeline Smoker, Kalissa Jackson, Kallen Jones, Zayden Hentges, Kassidy Hentges, Reese Bowman, Kort Strommen, Haizyn Rutherford, Brynlee Boreson, Isabelle Jones, Colemann Hilkemann, Aubrey Klatt, Sidney Klatt, Cameron Reddig, Justin Schiller, Maria Grimes, Brittany Fuller, Ellie Laumeyer, Jackson Abern, Blaze Bleazard, Billy Still, John Yeska, Lana Mason, Payton Stenglein and Sheila Mason.
A commissioners/community meeting was scheduled for Wednesday, March 8, at 4 p.m. at the LCHS.
A reception was held for the LCHS basketball team at 5 p.m. on Sunday to celebrate the 2023 Eastern C Divisional Title earned by the LCHS boys' basketball team on Saturday night in Wolf Point March 4. Many alumni came back for the tournament to support their old community and their families in this tournament. It is not the first time Lustre has played at divisional tournament, but it is the first-ever divisional title win. The Lady Lions also competed at divisional.