Posted on
Dalton Williams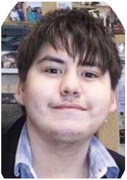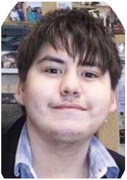 Dalton Jay Williams "Dagu Kogipabis" (Not Afraid), 23, died Feb. 8, 2023, at the Billings Clinic in Billings.
He was born July 31, 1999, to Ada Talks Different and Henry Williams. He attended kindergarten in Frazer and later moved to Wolf Point with his mother and brothers, William and Taylor.
He was born with the condition Pierre Robin Sequence, which affected his airway. It consists of an underdeveloped jaw, a cleft palate and the tongue being placed further back toward the throat. He went through many surgeries to correct this condition.
In grade school, he was diagnosed with Asperger's. He had difficulty communicating, but eventually made many friends. During his years in school, he taught himself how to make Toy Story figurines and cowboy hats that he would gift to people. He was a talented artist, a skilled crafter and loved all things Toy Story.
After he graduated from Wolf Point High School in 2018, he attended Fort Peck Community College and continued making gifts for everyone. In his beading class at the college, he learned how to bead medallions and made himself a pair of moccasins. He was a loyal Bearcub fan and beaded many medallions. Later, when his cousin Kelby Bauer transferred to Wolf Point, he did the same for his friends and family there. It was then that he became a fan of the Wolf Point Wolves.
He loved "family time" and was always looked forward to potlucks in Frazer. He had a special place in his heart for his grandfather, Mike Talks Different. When Dalton was hospitalized after birth, his grandparents Mike and Mari would visit him and speak to him in the Assiniboine language. When he was older, he took the Assiniboine language class in high school and then in college. He wanted to be fluent in the language. He also loved to sing traditional songs and was gifted a few hand drums. He loved singing and practiced every day.
He was a respectful young man and loved all of his grandparents.
He is survived by his mother, Ada; brothers, William and Taylor; and grandparents, Mike Talks Different of Harlem, Shirley Flynn of Frazer, Marietta Fourbear of Brockton, Becky (Ted) Standing Bear and Agnes Johnston.
He was preceded in death by his father, Henry Williams.
Funeral services were held on Thursday, Feb. 16, and burial followed in Oswego Presbyterian Cemetery.