Posted on
Azure Cares For Others In Community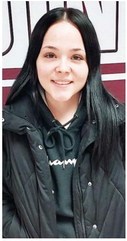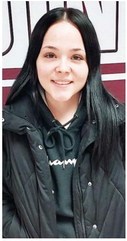 Wolf Point High School senior Jerzey Azure cares about other people.
She displays how much she cares when she serves as a certified nursing assistant at the hospital in Poplar. She has been working there for about a year.
"I like being able to help people," she explained.
Her goal if to earn a degree in nursing and then live in the area because she treasures and cares for her family.
"I want to be with my family. Family means a lot to me," she noted.
Her activities while she attended high school included volleyball and softball.
"The love and energy on the court and playing with my classmates and friends," Azure said of what she liked most about playing volleyball.
During the summer, Azure has helped the Yellow Jackets win the last two league softball tournaments. "It's really fun. We always have a good time out there," Azure said. "We're never mad. We always have fun and enjoy it."
Her favorite class has been psychology. "It's interesting learning what the mind all goes through," Azure said.
As far as her favorite educator, Azure picks counselor Erin Loendorf.
"She's always a person I can go to. She understands," Azure said.
She said her role model is her mother, Rainey Azure. "She is the strongest person I know," Jerzey said.
After high school, Jerzey plans to do her general studies at Fort Peck Community College and then head to Williston State College.
She appreciates living in this area. "I like how strong our community is and how we come together to help others," Azure said.