Posted on
Chess Gains In Popularity At Local School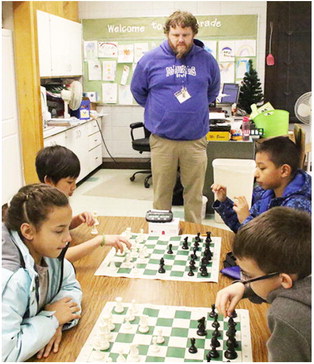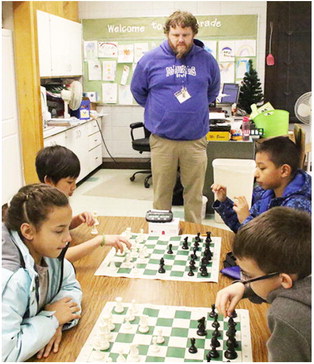 Frontier Elementary School teacher Joshua Brown said there were doubters when he wanted to start an after-school chess club at the school.
Brown, who has played chess for 23 years, was told that a chess club wasn't possible in such a small town. This year, Frontier's students have been very excited about the activity and as many as 24 students show up to play on a given day.
"I'm proud of my students who rose to the challenge and proved them differently," Brown said. "They jumped in and really took it on."
The club meets twice a week. The activity is open to third through eighth grade students. The majority of the students involved are either in third or fourth grade.
Brown began the club two years ago, but it really started to gain steam last school year.
"Part of it is that a lot of these kids, I taught personally," Brown said of the interest. "I made it sound interesting." In addition, some families were conducting their own chess clubs.
He's seen a lot of improvements from Frontier's chess players. One boy, who has played for just a little more than a year, recently gave Brown a challenge in a match. "
"He actually made me work for my win," Brown said. "Some of them have made extreme progress."
Two weeks ago, 12 of the students competed in a school tournament. The top three players were Jace Yellowrobe, Iyerlee Paulson and Gabe Uy. Earning the award for scoring the biggest upset was Frankie Gourneau.
"It was intense," Brown said of the tournament. "For nearly three hours, they stayed focus on one task."
Brown, who was once ranked as one of the top 10,000 players in the world by chess.com, sees many benefits of playing chess.
"It's a way to work your mind and change how you think about everything around you," he explained.
Frontier Chess Club