Posted on
Teddy Toss Benefits Local Children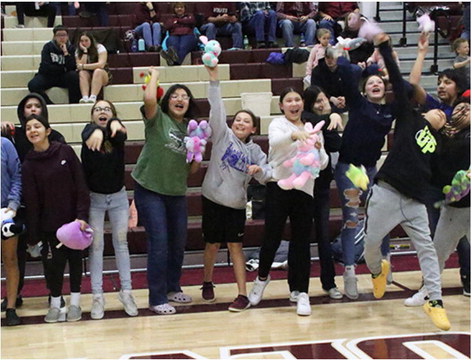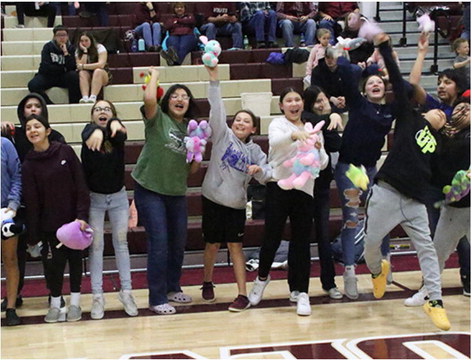 Teddy Bears were among the fans at Wolf Point's girls' basketball game on Thursday, Feb. 2.
Advisor Amanda Campbell and junior high students in the Jobs for Montana Graduates program collected the stuffed animals in order to donate them to area youngsters.
Campbell explained that last school year stuffed animals were collected around Christmas time and donated to Southside Elementary for its holiday carnival.
On Thursday, people had the fun of donating the items by tossing them on the gym floor during half-time of the girls' varsity game. The stuffed animals were then collected to be given to kindergarten students.
"We wanted to give them something a little extra right now," Campbell said.
She explained that the activity started taking place in Wolf Point after Ember Runs Through show it done at a professional basketball game.
"I just rolled with it for the JMG program," Campbell said.
Since August, the JMG class has been part of a buddy program with preschool and kindergarten students at Southside Elementary School. The JMG students have been walking over to Southside twice a week.
JMG's Mission is two-fold: To provide classroom instruction and work-based learning opportunities to students in grades which will enhance their career awareness, self-esteem and work readiness; and to identify young people who can benefit the most though participating in JMG and prepare them for meaningful career-oriented jobs, matching the students with community job opportunities and providing long-term follow-up to facilitate their successful transition from school-to-work.
Teddy Toss
Wolf Point students throw stuffed animals onto the basketball court prior to a game on Thursday, Feb. 2. The toys will be donated to local kindergarten students.
(Photo by Bill Vander Weele)