Posted on
Students Earn Honors At Local Bee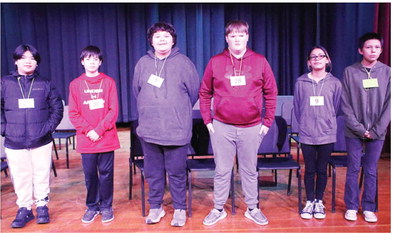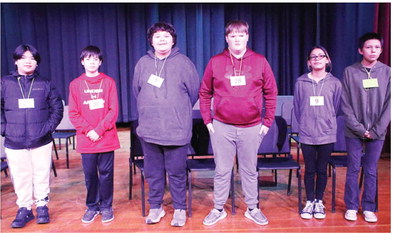 Jairo Tumonong, a seventh- grade student, has repeated as the spelling bee champion of Wolf Point. The competition was held on Tuesday, Jan. 31.
Last year, Tumonong went on to win the Roosevelt County spelling bee and placed third at the state spelling bee.
Also qualifying for the county spelling bee by placing in the top six at the Wolf Point competition were eighth-grader Zeke Gourneau in second place, seventh- grader Adonis Kirk in third place, eighth-grader Owen Moran in fourth place, Northside Elementary School student Brandalyn Martell in fifth place and seventh- grader Aleigha Bear in sixth place.
Tumonong had a couple misspelled words in the contest, but at the end he emerged as the local champion.
"This year, it was way more intensed," he said. "I thought I was going to lose."
The county spelling will be held in Culbertson this year. Tumonong said he will certainly prepare his best for the competition.
"I will study a lot," he said. Barb Olson was the announcer during the Wolf Point competition. Judges were Tara Thomas, Jacob Boysun and Laura Wall.
Spelling Honors
Placing at the Wolf Point spelling bee were (from left) Jairo Tumonong in first place, Zeke Gourneau in second, Adonis Kirk in third, Owen Moran in fourth, Brandalyn Martell in fifth and Aleigha Bear in sixth. (Photo by Bill Vander Weele)