Posted on
Baker Studies To Prepare For Future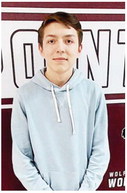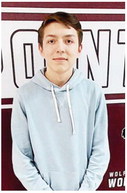 Wolf Point High School Frank Baker is making a point to work toward his future during his time at the school.
He has been successful in several dual credit courses including ag welding, public speaking, Microsoft Office, drawing and drum making.
"I like learning how to draw," Baker noted.
He has also taken many high school art classes and has enjoyed the instruction there as well.
"I don't really do it in my free time, but when I do it, I get into it," Baker said of art work.
One of his favorite pieces has been a portrait of Bruce Wayne from Batman shows.
He encourages other students to take advantage of the dual credit courses available in Wolf Point.
"It's a good learning opportunity and you get college credits," Baker said.
His favorite class is American government, which he has in the first period of the day.
"It's really informative," Baker explained. "It's fun because everybody likes to talk."
His favorite teacher is Martin Toavs in ag mechanics.
"He's a teacher who lets you learn from your mistakes. He likes you to improve yourself," Baker said.
Outside of school, his hobbies include playing video games and hanging out with friends.
After high school, he plans to finish earning his associates degree at Fort Peck Community College. He also plans to work in order to save some money.
"After that, I don't know," Baker said of his plans.
He was born in Wolf Point and likes living in the community.
"I know everyone and can talk to anyone," Baker said.