Posted on
Keiser Enjoys Helping With Projects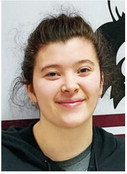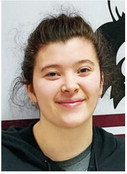 Wolf Point High School senior Trinity Keiser has made a point of serving the community even at a young age.
When she was in only the sixth grade, she asked Northside instructor Beth Olsen how to get involved with the Wolf Point Optimist Club.
Since that time, Keiser has assisted in projects to clean up parts of the community. She has also helped at suicide awareness walks.
"I volunteer to make the town look nicer," Keiser explained. "I will probably help out as long as I possibly can."
Another activity that she enjoys has been working as a certified nursing assistant at Faith Home for the last two years.
"I like getting to meet new people," Keiser said. "They're older and have interesting stories and life lessons."
She plans to study nursing at either Minot State University or Salish Kootenai College in Pablo.
Her favorite class at Wolf Point High School is English with teacher Doug Evans. "I learn a lot from that class," Keiser said. "He can be stubborn, but I like him."
Art teacher Vivian Schultz is her favorite instructor.
"She saw the talent I had before I did," Keiser noted.
The senior's artistic talent include a variety of paintings. One of her best ones is of a panda, and that piece hangs in her mother's room.
"I try to pick up all different kinds of art, whether it's sculptures or paintings," Keiser said.
She said her role models are her parents, Ron and Darcy.
"They have a busy schedule, but they always find time to help other people," Trinity explained.