Posted on
Gianforte Touts Tax Reform, Education Proposals In Address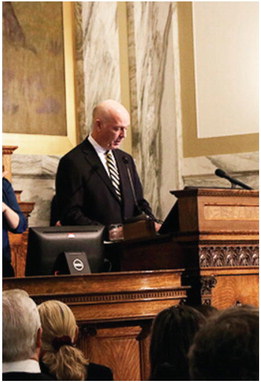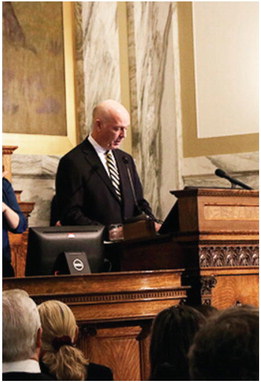 HELENA – Gov. Greg Gianforte delivered his second State of the State speech on Wednesday night, Jan. 25, highlighting issues ranging from tax policy to education to Montana's response to the fentanyl crisis.
"Montanans want greater opportunity. Good paying jobs, tax relief, the best education possible for their kids. Affordable, accessible, high quality healthcare, safe communities, attainable housing, stronger families, and responsible, effective government. I share their priorities and together we must deliver on them," Gianforte said to a joint session of the House and Senate.
The governor dove right into tax policy, one of the chief issues the Legislature will debate this session. He talked about his proposal, Senate Bill 121, sponsored by Sen. Becky Beard, R-Elliston, which would cut Montana's maximum income tax from 6.5 percent to 5.9 percent as well as other legislation that would lower property taxes and make more businesses exempt from equipment taxes.
"Hardworking Montanans should keep more of what they earn because ultimately it's not the government's money," Gianforte said.
He also talked about expanding trades and healthcare, including breaking down barriers for healthcare providers to practice in Montana. And, he spoke on his "red tape initiative" designed to get rid of unnecessary bureaucracy for Montana businesses.
On education, Gianforte promised more support for Montana's teachers as the state faces a teacher shortage. He referenced Senate Bill 70 specifically, which would encourage teachers to move to rural areas by helping pay off their student loans.
And, Gianforte said the government should never be able to step in between a parent and their child's education.
"Let's empower Montana parents to choose what's best for their family and their kids," he said. "Let's protect parental rights."
He also promised to fight for legislation that he called common-sense pro-life bills, and on the same note, he encouraged legislation that incentivizes Montana families to adopt by giving them tax credits.
"Every child deserves a home where they can reach their full potential," Gianforte said. "To get more children into permanent loving homes, we are proposing an adoption tax credit of $5,000. If you adopt a kid from our foster care system, that amount bumps to $7,500."
The full House chamber rose to its feet when Gianforte talked about efforts to address the growing cases of missing and murdered Indigenous people. "We also continue to face the heartbreaking crisis of missing and murdered indigenous persons, and this is an all-hands-on-deck moment," he said.
Indigenous people compose 30.7 percent of the total missing persons cases in Montana in 2021 according to a brief released by the Department of Justice. Lawmakers have proposed several bills that aim to deal with the crisis, including House Bill, 18, which would provide grants to communities to train local volunteers in missing persons searches.
Gianforte also laid out his proposals for combating the drug crisis, including expanding addiction treatment and the Angel Initiative, which allows Montanans struggling with addiction to go to any police station in Montana to ask for and receive help. He also talked about the HEART Fund, a community grant program designed to help Montanans beat their addictions.
"Instead of turning our backs on those struggling with addiction, we're investing in hope and opportunity as they get clean, sober, and healthy," he said.
Gianforte said his budget also aims to build up mental health services.
"We propose a generational investment in behavioral health. With it we'll repair the state hospital in Warm Springs, improve patient services and will better secure the safety of patients and providers. We'll also support expanded community-based behavioral health clinics," he said.
He ended by talking about shared values.
"We embrace the fundamental idea that the American dream is a sacred one, and together we will always defend it," Gianforte said.
In the rebuttal from Democrats, however, Sen. Shannon O'Brien, D-Missoula, criticized the governor and his party for not going far enough to alleviate property tax burdens and not asking wealthy Montanans to pay their fair share.
"Every single one of us is feeling the pinch of property taxes, of income taxes, and of inflation. The system needs to be fair where the wealthy pay their fair share and ordinary Montanans aren't paying the bulk of the bill. We can all agree there are ways to adjust the system while not putting all the burden on the middle and lower income families," O'Brien said.
O'Brien said Gianforte's plan doesn't do enough to address Montana's high cost of living and housing crisis, arguing that money spent on Gianforte's "red tape initiative" could be better spent on finding solutions for the housing crisis at the renter, landlord and construction levels.
She argued that Gianforte isn't doing enough to make a strong public education system for all students in Montana and that his proposals don't do enough to help families with child care costs, saying that for some child care can cost around one thousand dollars a month per child.
"It's not fair and it's not OK. These are our children," she said.
Gianforte did mention the high costs of child care in his speech and highlighted his proposal to give a $1,200 tax credit for families with children under six and another that he said invests $100 million to help "stabilize" childcare in Montana.
O'Brien finished her speech by addressing the partisan nature of this year's Legislative session.
"This legislative session is not about Democrats and Republicans," she said. "It's not about political wins and political losses. It's not about making national headlines and it's not firing up certain groups. The 68th legislative session is about getting good things done for Montanans."