Posted on
Elaine Vinger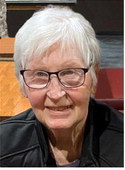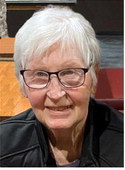 Elaine Louise Vinger, 88, of Billings died Jan. 14, 2023.
She was born Nov. 17, 1934, in Magnet, Neb., and was one of six children born to Rader and Gertrude Remmen. She graduated from high school in Plainview, Neb., in 1953.
She met Orren Vinger in November 1955. They got engaged that December and the two young Norwegians were married on St. Patty's Day in 1956. It was a whirlwind start to a romance that lasted nearly 67 years. They had three children — two sons, Terry and Mark; and a daughter, Tammy. Her greatest roles in life were as a wife and mother, raising her children and supporting her family, including her eight grandchildren and three great-grandchildren.
They spent most of their married years between North Dakota and Montana and eventually settled in Wolf Point where they raised their family. They also enjoyed their time together in Billings and Chandler, Ariz., which allowed them to be close to family.
She was an avid reader. She loved crossword and regular puzzles, and she loved to bowl and golf. She was active in the Lutheran church and enjoyed helping with youth group.
She is survived by her husband, Orren; sons, Terry Vinger and Mark Vinger; daughter, Tammy Baker; and siblings, Thelma Ewalt and Norman Remmen.
She was preceded in death by her siblings, Carmen Matthis, Arnold Remmen and Arlo Remmen.
Services will be held at a later date.