Posted on
RMC provides emergency care to area residents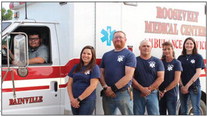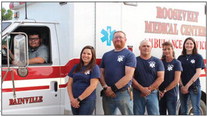 By Bill Vander Weele
Roosevelt Medical Center has a strong Emergency Medical Services unit thanks to the dedication of 20 volunteers from the Culbertson, Bainville and Froid communities.
"Of course, we can always use more," Nick Kallem, EMS director for Roosevelt Medical Center, said of volunteers. "Most of them are fairly active."
If you are interested in becoming a volunteer, pick up an application at the hospital. Kallem says one class is finishing up now, and he plans to offer another class either this fall or next spring.
Kallem, who has recently been hired as the EMS director, is very excited about the position. He looks forward to getting to know the EMT volunteers better.
"I want to get to know the crew and build connections in the community," he said.
Since his experience includes living in Sidney for seven years, Kallem understands the challenges of living in a rural area well. Kallem has been an EMT since 2010 and has worked in Sidney Health Center's EMS department for seven years. Those challenges include having to transport patients from one facility to another facility.
"That's just the uniqueness of being in a rural community," Kallem said.
He encourages young people to consider volunteering as and EMT.
"It's a great stepping stone to help the community and a good entry level if you are thinking into going into the health care field," Kallem said. "It's a great way to serve the community."
RMC's EMS members in Bain-ville (from left) Auggie Hollanda (in the driver's seat), Kyla Traeger, David Norton, Ed Strickland, Bree Strickland and Marsha Schmidt. ( Photo submitted)
RMC's EMS members in Culbertson (from left) Rick Kessner, Rachel Glavin, Erin Rhodes, Teresia Moore, Bev, Raaum and Deb Heckmun. ( Photo submitted)
RMC's EMS members in Froid (from left) Liz Mogen, Larry Mogen, Marvin Qualley and Danny Mogen. ( Photo submitted)