Posted on
NEMHS EMS respond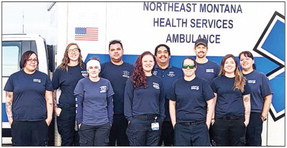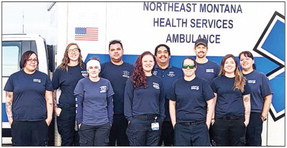 in
of
By Bill Vander Weele
Emergency Medical Services in Wolf Point and Poplar are providing reliable care, but additional volunteers are always needed and appreciated.
James Wilson, EMS supervisor in Wolf Point, said Wolf Point's staff features five full-time staff and eight volunteers while Poplar has four full-time staff members and about 10 volunteers.
"We can certainly use more volunteers," Wilson said. "With what we have, we work a lot of hours."
Three individuals completed EMT classes during the fall and now are waiting for their tests.
Between Wolf Point and Poplar, EMS responds to about 3,000 calls annually.
"We do what we have to in order to make sure we have services out there," Wilson said.
He noted there are benefits with becoming EMT volunteers. "It's a good starting point for anybody interested in the health care field," Wilson said. He noted that he's known EMTs who have later gone into radiology and nursing.
Northeast Montana Health Services provides emergency medical services to Wolf Point, Poplar, and the surrounding areas. NEMHS EMS providers include medically trained drivers, emergency medical technicians and advanced emergency medical technicians.
With two campuses located in Wolf Point and Poplar, NEMHS EMS has a coverage area of approximately 2,100 square miles.
It's also a positive feeling to assist community members in a time of need.
"If you have a desire to help people, it's a great starting point for community service," Wilson said. "All our communities need first responders."
Goals for the program this year include offering community outreach projects that cover staying safe and what to do in the case of an emergency.
NEMHS EMS staff (left to right): Miya Smith, Amanda Schock, Katherine Schmidt, James Wilson, Phynix Lawrence, Ernesto Hernandez, Sierra Hentges, Kevin Hodge, Emilee Clark, and Tara Geer.