Posted on
Almyra GrayHawk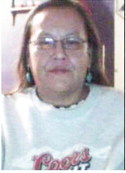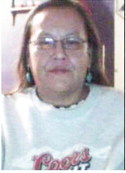 Almyra Lynn "Myra" Gray-Hawk, 50, of Poplar died Dec. 20, 2022.
She was born on Feb. 14, 1972, to Keva Spotted Bird and Frederick Lemay. She was then adopted and raised by Carol Spotted Bird and Benjamin GrayHawk.
She attended Brockton High School where she was a cheerleader ad played basketball. She enjoyed playing dice, cards, and her word puzzles. She really enjoyed visiting family and friends.
She met Edwin and, in 1990, daughter Evangeline GrayHawk was born. She later met and married Loren Boadle and, in 1997, daughter Laney Boadle was born.
Later on in life, she worked as a cook at Brockton School.
She is survived by her daughters, Evangeline Runs-Through of Frazer and Laney Boadle of Poplar; husband, Richard Melbourne of Poplar; adopted daughter, Laureen Combs; siblings, Amber White Bear, Troy Fast Horse, Errol, Ronald, Jennifer, Wilma, Ronnie and Joseph YellowHammer, Mary Ellen Frislie, Jolene GrayHawk, Melda GrayHawk, Justin GrayHawk,