Posted on
Wolf Point Students Perform At Concert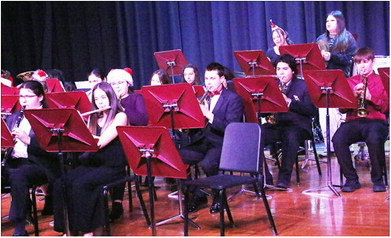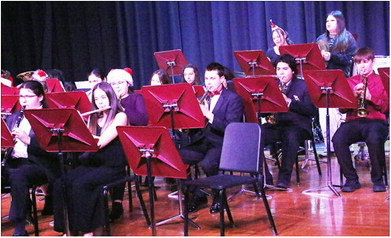 Music students of Wolf Point High School and Wolf Point Junior High School entertained with their "Sounds of the Season" holiday concert at the school on Monday, Dec. 19.
The program opened with four selections from choir members. Audience members had the opportunity to enjoy While the Snow Lady Sleeping, Breath of Winter,
Something Told the Wild Geese and Ukrainian Carol of the Bells.
Junior high band students then provided the selections of Christmas Mash-up and Carol of the Bells.
The evening ended with the high school band playing
Christmas "Ala" Big Band, Lo, How a Rose E'er Blooming
and Reindeer Galop.
Director Russell Johnson said the junior high choir wasn't quite ready for a public performance, but a junior high program featuring both the choir and band will take place later this school year.
High school choir members include Riley Benton, Julianna Garfield, Cante' Grey Bull, Madison Eder, Rebekah Landsrud, Adriana MacDonald, Abigail Ponce-Curl, Quiarrah Rios, Ameah Wetsit, Audrey Weinberger, Chase Adams, Cole Boysun, Dante' Granbois-Dionne, Walker Harmon, Zane Burshia, Shane Dale, Del Eymard, Francis Good Track, DeRay Peltier, Dustin Schafer, Ryan Schumacher, Jaycee White and Logan Wolff.
High school band students are Navella Weeks, Victoria Wozniak, Jaila Big Talk, Jerome Four Star, Trina Grandchamp, Rebekah Landsrud, Ellianuna Ryan, Cante' Grey Bull, Rebekah Landsrud, Cole Boysun, Francis Good Track, Ryan Hilkemann, Amya Martinez, Ryver Summers, Logan Wolff, Lennoxx Lilley, Walker Harmon, Dominck Brooks, Ethan Fowler, Dante Granbois-Dione, Trenton Hamilton, Jondel Moccasin, Aaron Boysun, Vaun Jensen, Raine Wetsit and Jaycen Williams.
Members of the junior high band are Azarea McConnell, Zachary Hilkemann, Ma'Kenzie Jackson, Kole Johnson, Evie Onstad, Renee Smith, Lonnie Steele, Jonah Williamson, Jeina Reum, Dreyson Clark, Kashtin Lizotte, Thomas Moudree, Ryelei Bauer, Christian Brock, Kevin Brock, Rayden Smith, Adalynn Smith, Randran Imus, Aedyn Dionne, Andrew Walking Eagle-Fleming, Dana Buckles, Jairo Tumonong, Brenden Drum and Jaycee Hilkemann.