Posted on
Eastern Montana Deals With Drastic Weather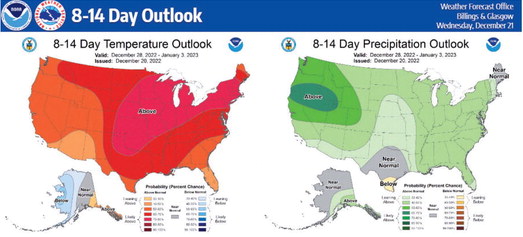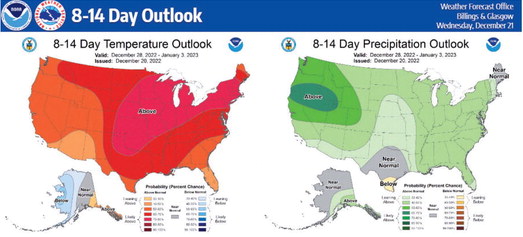 The weather experienced in the area during late November and December has been memorable. In fact, information from the National Weather Service shows that it's been historical.
For the span of from Nov. 1 through Dec. 20, more snowfall than ever before was reported in the Glasgow area for that time period. The snowfall of 31 inches was the first time ever it was more than 30 inches since reports started in 1894. The previous high was about 28 inches of snow during 1996.
During the monthly briefing for Eastern Montana and Northern Wyoming held on Wednesday, Dec. 21, meteorologist Cory Mottice said the snowfall in eastern Montana really stands out especially from Glasgow to Miles City and points east.
Mottice noted that with the expected cold temperatures, the snow isn't expected to be gone anything soon.
The statewide average temperatures during November ranks 11th all time since 1895. Up until Wednesday, Eastern Montana recorded temperatures 12 to 16 degrees below average for December.
The cold temperatures experienced last week were some of the lowest marks for some time. Sub-zero lows reported included 29 below in Poplar and Glasgow, 26 below in Wolf Point, 31 below in Malta and 26 degrees below in Culbertson.
"Montana as a whole really stand outs from the rest of the country," Mottice said of the recent cold weather felt by most of the nation. "
The weather outlook for Dec. 28 through Jan. 3 is anticipated to feature above normal temperatures.