Posted on
Wolves Outscore Poplar, 67-63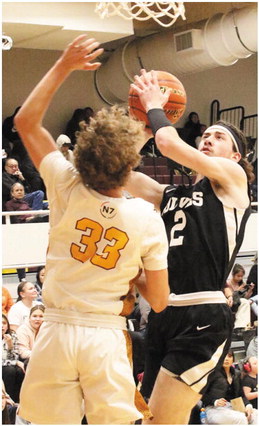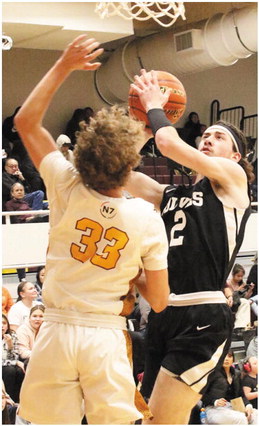 The Wolf Point Wolves were able to respond. After seeing Poplar dominate the early stages of the fourth quarter, the Wolves battled back for a 67-63 boys' basketball victory in Poplar on Friday, Dec. 16.
Poplar trailed by a 55-50 margin entering the fourth quarter, but the Indians accounted for the first 10 points of the final period. After a fastbreak drive by Kameron Reum, Delray Lilley fired in a three-pointer for a 55-55 deadlock.
Kaniel Ricker then stole the ball, and the play resulted in a go-ahead three-pointer by Geordy Medicine Cloud with 5:26 left. Another basket by Reum, off an assist by Lilley, put the Indians ahead 60-55.
Wolf Point broke its scoring drought in the fourth quarter when Cade Stafne hit a 14-footer with 3:58 left. A 17-footer by Kelby Bauer and a drive by Peyton Summers put the Wolves back into the lead.
Two baskets by Julian Benson increased Wolf Point's lead to 65-60 with 1:26 remaining. Poplar, however, kept the heat on when Lilley connected from three-point range to cut the gap to 65-63 with 1:10 left.
A drive by Summers put the Wolves ahead by four points. After Poplar missed a three-point try, the Indians kept possession with a rebound. Wolf Point's Bauer forced a jump ball to give the Wolves the ball with only 10 seconds left.
Wolf Point held the ball to end the conference contest.
Benson led the Wolves with 25 points while Gaige Bushman added 11 points.
Also scoring were Bauer with eight, Summers with six, Kraven Silk with five, Jack Kolstad with five, Stafne with five and Lennoxx Lilley with two.
Top scorers for the Indians were Lilley with 25 and Walker Burshia with 10 points. Also scoring were Medicine Cloud with eight, Ricker with eight, Reum with eight, Wilder Bearcub with two and Preston Ogle with two.
Poplar enjoyed a great start with the contest's first seven points on four points by Burshia and a three-pointer by Lilley. The Indians received two more three-pointers by Lilley to lead by a 17-13 margin at the end of the opening quarter.
Benson led Wolf Point to a 20-20 deadlock midway into the second period. A pair of free throws by Bauer and a layup by Bushman off a long pass from Benson put Wolf Point ahead 26-22.
The hot shooting of Benson led the Wolves to a 37-29 half-time advantage.
Wolf Point held a 41-34 lead two minutes into the third quarter, but Poplar came back on a drive by Ricker and a three-pointer by Lilley and three-pointer by Medicine Cloud to trail by only a 41-39 margin.
Ahead by a 48-46 score, Wolf Point struck for seven straight points on five points by Kolstad and a coast-tocoast drive by Benson. The Wolves led 55-50 at the end of the quarter.