Posted on
Senior Profile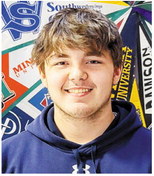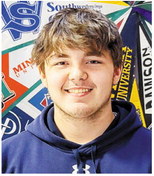 Finnicum Enjoys Role At School
Tucker Finnicum is glad to be a senior at Culbertson High School and a solid contributor in the school's football program.
He has played offensive guard and defensive tackle throughout his football career for the Cowboys.
"I get to be physical and sack the quarterback," Finnicum said of his favorite things about the sport. "On defense, I enjoy hitting people."
During the season, Finnicum accounted for four quarterback sacks and 10 unassisted tackles.
"It's a bonding experience to be on the team," the honor roll student said. "I like how we work together and I like winning."
After dislocating his shoulder as a junior, Finnicum found his senior year quite rewarding as the Cowboys advanced to the semi-final round of the state playoffs.
He said he's thankful for Culbertson's football coaching staff featuring Brian Manning and Mark Pederson.
"They are great coaches," Finnicum said. "They are very straight forward."
Hobbies for Finnicum include hunting and fishing.
He says his father, Brett Finnicum, is a role model for him.
"He's taught me a lot of things of things in life. He's taught me to work hard and never give up," Tucker said.
The senior's favorite class is history.
After high school, he plans to study mechanical engineering in Butte. He plans to then return to the area for a few years. "I would like to explore other areas, too," Finnicum said.
He is proud to come from Culbertson. "It's a great community," the senior said. "Everybody helps whatever you ask for, no matter what."
Finnicum
Tucker Finnicum enjoyed his time as part of Culbertson's football program. (Photo submitted)