Posted on
Poplar Girls Nip Wolf Point, 58-56,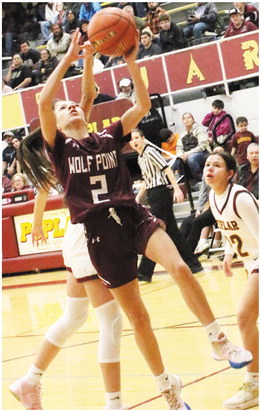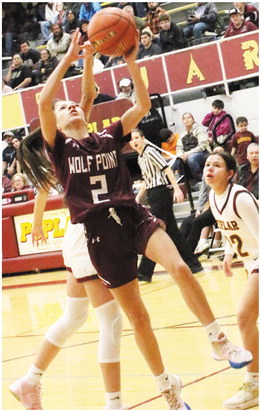 Poplar's girls' basketball squad put together a strong effort and edged Wolf Point, 58-56, in Poplar on Friday, Dec. 16.
The Indians held a 27-26 half-time lead and the two teams battled evenly for much of the third quarter. A basket by Wolf Point's Katelyn MacDonald off a pass from Sierra Hamilton put the Wolves down by only 3635 with 2:37 left in the third quarter.
Poplar then struck for the last five points of the period on a hoop by Brealyn Nordwick off a pass from Morgen Nordwick and a three-point play by Bailey Dupree for a 41-35 margin.
After Wolf Point's J'Elle Garfield opened the fourth quarter with a three-pointer, Poplar's freshman Cammie Martel answered with three free throws.
The scoring of Garfield and Hamilton kept the Wolves close, but Poplar stayed up on an inside shot by Dupree and a free throw by EmmaRae Martell. After a pair of free throws by Keeley Blount-Henderson pulled the Wolves to 49-46, Poplar increased the gap on a basket by Kessee Erickson and a 12-footer by Dupree for a 5346 margin with 2:56 left.
M. Nordwick connected on a three-pointer to put Poplar up 56-48 with two minutes left in the league game.
The Wolves kept battling and were able to close the margin to 58-56 on four straight points by Garfield with 44 seconds remaining. The Indians then missed from three-point range, but Dupree came away with a rebound to keep possession.
After Poplar missed from the foul stripe, the Wolves had a final offensive opportunity. A three-pointer by Mahala Moran went in and out of the basket to end the contest.
Top scorers for the Indians were M. Nordwick with 14 and C. Martell with 10 points. Dupree had seven points. Scoring six points each were Jazmyn Carrywater with six and Rikki Belton. Also scoring were Mattie Falls Down with five, B. Nordwick with four, Erickson with four and E. Martell with two.
Garfield led the Wolves with 24 points. Also reaching double figures were Hamilton with 12 and MacDonald with 11. Also scoring were KJ St. Marks with eight and Mailey Wells with one.
The first quarter ended in a 13-13 deadlock. Three-pointers by C. Martell led the Indians to a 19-15 advantage in the second quarter.
The Wolves tied the game on a pair of free throws by MacDonald and a basket by Hamilton was good for a 2625 lead.
A hoop by M. Nordwick off a pass from B. Nordwick put Poplar ahead 27-26 at intermission.