Posted on
Stampede Committee Makes Tradition Of Selling Trees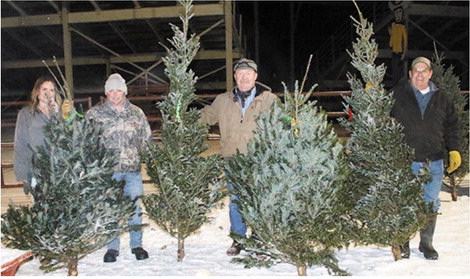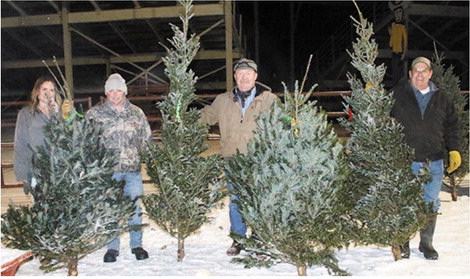 It's a long ways on the calendar until the Wolf Point Wild Horse Stampede takes place, but the event's committee is busy at work to raise fund for the celebration.
For the past couple of weeks, committee volunteers have been selling Christmas trees three nights a week at the Stampede grounds.
Committee member Jack Stensland estimates this is the 15th year that the committee has offered Christmas trees. In the first year, the committee had so many trees left that they donated 80 of them to Walleyes Unlimited for fish habitat.
Throughout the years, the committee has learned that 125 trees is the correct number to sell for the area. The 100th Wolf Point Wild Horse Stampede is scheduled for July 2023.
"We've been building this year for the 100th, so we can put on a better rodeo," Stensland said. "We want to add to the purse and try to get more cowboys here."
Remaining scheduled opportunities to purchase trees are from 4-7 p.m. on Wednesday, Dec. 14, 4-7 p.m. on Friday, Dec. 16, 4-7 p.m. on Monday, Dec. 19, and 4-7 p.m. on Wednesday, Dec. 21. The committee may stop selling early if all the trees are spoken for.
"We get pretty much the same customers every year," Stensland said.
On the first night of sales this year, on Nov. 28, volunteer sold 30 trees.
"It was windy and chilly, we thought it wouldn't be a big deal, but people suddenly started showing up," Stensland said.
Along with Wolf Point, customers come from the communities of Scobey, Poplar, Circle, Brockton, Fort Kipp and Richey.
"It's been a good deal so we can really help make the 100th Stampede even better," Stensland, who has been on the committee since 1975, said. "The support the community and surrounding areas have given the tree deal has been outstanding."
The Stampede committee also includes Christy Stensland, Dave and Kay Matejovsky, Scott Keen, Rodney and Nicole Paulson, Katie Gorder, Erica Reed, J.D. Stensland and Donnie Whitmus.
The committee features people with different backgrounds and interests.
"It takes a wide variety of people so you can grasp what the audience wants to see," Jack Stensland said.