Posted on
Senior Profile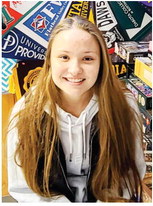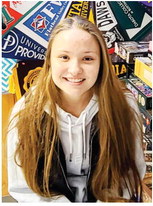 Ator Leads In Culbertson School Activities
Alicyn Ator takes on a strong leadership role as a senior at Culbertson High School. Ator keeps busy as she is involved in student council, Business Professionals of America, the National Honor Society, FFA and three sports.
She serves as the vice president of the school's student council. "I like being able to make a difference," she explained. She mentioned that she enjoys hearing concerns from fellow students and trying to have a positive impact.
As secretary for Culbertson's National Honor Society chapter, Ator commends projects that the non-profit organization takes on. The next project will be a toy and food drive starting in early December.
Ator said boxes and informative fliers will soon be available for the noteworthy project.
She has earned success in many areas for the Business Professionals of America program. Ator placed third in Linux operating systems fundamentals, fourth in SQL database fundamentals, ninth in advanced spreadsheets and 10th in IDC-10 medical coding at the state competition last March.
"I'm very into the business management part," Ator explained.
She feels that FFA is another great learning opportunity. She has competed in agronomy, floriculture, parliamentary procedure and farm business management.
She says her favorite category is floriculture. "Maybe it's just the flowers, making something pretty," she laughed.
Ator is one of the school's top athletes in volleyball, basketball and track. She enjoys each of the sports.
"It was a good volleyball season. I'm excited for basketball season. I think we will do well," she said.
One fun aspect this year is being on the same teams as her freshman sister Ayden. "I love playing with her," Alicyn said. "She understands the way I think sometimes. It's cool to have somebody there like that."
The senior doesn't have a favorite class, but she does appreciate science subjects.
Ator can't pick a favorite teacher, but her mother is a special education instructor at the school. She jokes that her mom is her favorite if she can count her.
Ator loves the atmosphere and the community aspect in Culbertson. After graduation, she plans to study physical therapy. She will likely attend the University of Mary in Bismarck, N.D.