Posted on
Senior Profile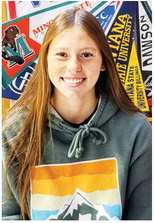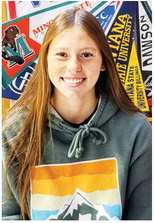 Granbois Reaches High Marks In Culbertson
Culbertson High School senior Megan Granbois looks forward to reaching even greater heights. Anyone that has seen her leap for a rebound in basketball or clear a high jump height in track knows that she is capable of accomplishing her goal.
Her list of activities include serving as secretary/treasurer in student council, Jobs for Montana Graduates, cross country, basketball and track.
She says her favorite activity is basketball, and she is excited about the upcoming season for the Cowgirls.
"I enjoy the sport. I always have," Granbois said of basketball. "And I enjoy my teammates."
Many of those teammates she has played with for a long time including being on travel ball teams since the fifth grade.
Her hard work paid off with an All-Conference selection and a second team defensive team honor last season.
"I'm just hoping we can do as well this year or maybe even better," Granbois said.
She has qualified for the Class C state track meet in both the high jump and 400-meter relay in each of the past two seasons. She placed fifth in the high jump at the divisional meet last spring.
"I've always liked running the third leg," Granbois said of the relay. "I liked handing the baton to my sister when I was a sophomore and to Autumn Bergum last year."
Cross country has also been a pleasure especially when the girls earned the second-place trophy at the state meet for the second straight year.
"We were all really happy and excited," Granbois said about the state meet. "It was nerve-racking waiting for the announcement. I enjoyed the team a lot. There was always something funny going on."
She appreciates all the teachers in Culbertson. "I don't think I could pick just one," Granbois said when asked of her favorite teacher.
Granbois does include being coached by Dave Solem in both cross country and track. "He always talks and jokes with us. He always supports us."
Teacher Mark Pederson is also a role model.
"He's always looking on the bright side of things," Granbois said of Pederson. "I enjoy his stories. It brightens my day."
She is undecided of what college to attend, but she hopes to play basketball there. She is planning to become a dental hygienist.
After transferring from Poplar, Granbois has attended school in Culbertson since the fourth grade. "It's a very good atmosphere here," she said.