Posted on
Nursing Students Help With Learning During Visit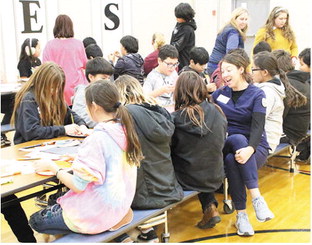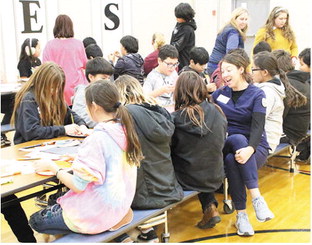 Area students learned more about nursing and the health care field thanks to a visit by nursing students from Montana State University of Bozeman last week.
Nursing students Caroline Olson, Audrey Arnold and Alex Wilz said they enjoyed their time visiting students at Wolf Point High School, Northside Elementary School, Southside Elementary School, Frontier and Frazer during the four days.
"Everybody here was very welcoming," Olson said.
Arnold added, "We were very happy with how the kids responded. They had very good manners."
The student nurses were in the area because they are on a rural track in the MSU nursing school. Their work was a clinical rotation where they could interact with several community schools. Students rotate to each of the clinics, provide health education in classrooms and attend to community needs such as assisting with the HEART project, attending to patients at the jail and providing First Aid instruction in Rona Stevens' home economics class.
The nursing students visited with Wolf Point High School students who have expressed interest in pursuing careers in the medical field.
"The MSU students were here to engage in a clinical experience, but they leave having gained so much more than just practice in the clinic," Sarah Ruff, Wolf Point's curriculum director, said. "The opportunities our students have to interact with the MSU student nurses help to build connections and a greater understanding of different college and career pathways. I am proud of the partnership that WPSD has with MSU as it benefits the school, our students and our community."
On Tuesday afternoon, program coordinator Dr. Julie Alexander-Ruff spoke to Northside students regarding nutrition. Students later got to sample different fiber treats.
With assistance from the nursing students, Northside students worked on a project where they created art that looks like the animal that they were feeling like that day.