Posted on
Thanksgiving hacks to make the day go smoothly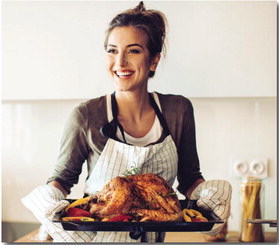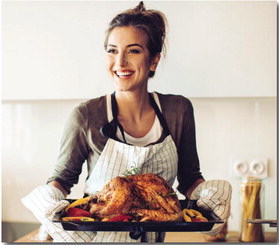 Make Thanksgiving stress-free this year with the following pointers.
• If your turkey comes out dry despite your best efforts, there is no need to despair. Simply warm up chicken or vegetable broth and dip slices of turkey in the broth for a few seconds, or pour the warm broth over the platter of sliced turkey.
• The best mashed potatoes are made by boiling skinon whole potatoes. When done, dip potatoes in ice water for a few seconds and use your hands to rub the peels off. This prevents the potatoes from becoming waterlogged and maximizes flavor. For the fluffiest mashed potatoes, add 1/2 teaspoon or less of baking soda to the mix.
• Free time up on the big day by making as many side dishes ahead of time as possible. Most casseroles will hold up well for a few days and may even be better.
• Prepare desserts well ahead of time and freeze them.
• Have a list of things for early birds to help with ie: filling water glasses, opening wine bottles, lighting candles or entertaining the children.
• If you're making pies, freeze the butter for the dough and grate frozen butter into the flour mix for perfect results.
• Chop fresh produce for stuffing and side dishes a day or two in advance.
• Set the table the night before. It's one less thing to worry about tomorrow.
• If you're serving a large group, don't be afraid to go buffet style.
• Make sure you have enough containers or zip-seal bags for leftovers. If you'll be sending guests home with leftovers, ask them to bring their own containers.
• If you're not a pro chef, keep your menu simple and focus on enjoying your guests. There is nothing wrong with asking guests to bring a dish.
• Plan to have appetizers ready to eat when guests arrive to free you up for the main course.
• Find easy, inexpensive DIY centerpieces and decor ideas online.
• Keep children entertained! Here are a few ideas: 1. Make a list of I Spy items they can find in or around the house.
2. Set up a table or space in the house with board games or jigsaw puzzles.
3. Have a couple of seasonal, family-friendly movies on hand. Some suggestions are Free Birds (2013) rated PG, Home for the Holidays (1995) rated PG-13, Winnie the Pooh: Seasons of Giving (1999) rated G, Turkey Hollow (2015 rated PG., and A Looney Tunes Thanksgiving (2016) not rated.
4. Cut out pages from coloring books to make placemats for the kids table. Don't forget the crayons, markers, or colored pencils.
5. Cut leaves out of colored paper and punch a hole. Ask the children to write what they're thankful for on the leaves and thread them on a string to create a garland.