Posted on
Table setting tips for a stunning Thanksgiving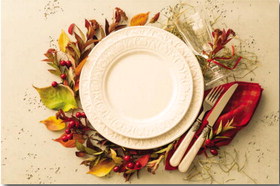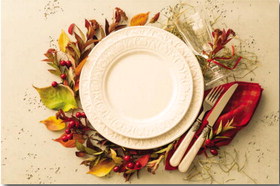 By Kerry Cash A few helpful tips from seasoned pros can help you pull off a beautiful and enjoyable feast.
First, make a guest list. Keep in mind the number of people you invite will dictate how many dishes, glasses, napkins, chairs and tables you will need to pull it off.
Next, decide the style of your event. Some common styles are traditional, modern, formal and/or casual.
Traditional dinners are built around a beautifully roasted turkey, cranberry sauce and plenty of casserole sides. Don't forget the pumpkin pie! For decor ideas, consider a tablecloth, napkins with napkin rings, family heirloom serving dishes, tall tapered candles and floral centerpieces.
For a modern-styled event, less is more. Pare down the menu and don't be afraid to try new things. A simpler menu of four or five things allows more time to spend on food quality and presentation and more time to spend with your guests.
Modern table setting is best done with white or neutral colors. Get rid of the garlands, towering centerpieces and tapered candles. Add a few minimalistic table decorations or low candles in earth tones or metallics to complement the season. Glass candleholders are typically inexpensive and are perfect for a modern setting. Look for serving dishes in basic shapes without embellishments.
Casual dinners allow you to get down to what really matters, food and people. Provide a few main dishes and ask quests to chip in with their favorite recipes. Don't be afraid to use store-bought items like pies, rolls, dips or meat and cheese platters. Think of going buffet style with food and drinks. Chances are if you're casual, your guests probably are too and they will not mind serving themselves.
Casual decor allows you to cut out frivolous decorations, linens and fancy candleholders. The aroma of delicious food in a warm, inviting atmosphere are all you really need. Shop discount stores for printed paper napkins and plates. After all, who enjoys doing all those dishes? Don't feel like you need to stick to a traditional or seasonal color scheme. Pick one or two fun colors or bright and bold patterns. Maybe you don't even need a dining table? Instead allow guests to find comfortable seats around the living area.
Formal dinners are elegant and impressive. Your guests will surely be delighted with your efforts. Formal dinners can involve sending invitations, making place cards, dusting off the fine china and polishing the silver. While some formal dinners pull out all the stops, don't be afraid to pare things down to your time frame.
A formal meal consists of several courses, as many as 16, with each course served and cleared before the next. A more simple formal dinner may include an apertif (a finger food served with a sweet, fruity drink), appetizer, salad, main course, cheese, dessert and coffee. A guide to setting a formal table can be found on the right.
Now that you've got an idea about your menu and decor, it's time to plan for the big day.
A day or two before Thanksgiving, set up the table(s), insert the leaves and make sure you have enough chairs for your guests.
Begin setting the table with a tablecloth, if using one, and ready the napkins. Break out the centerpiece, table runner, candles, place cards or whatever you choose to use.
Finish the table with dinner plates, flatware, salt and pepper shakers and glasses.
Now is a great time to find serving dishes for all your menu items and lay them out on the table, rearranging decor, if necessary, to make room. This makes one less thing to worry about later.
Lastly, set aside plates, serving dishes, coffee cups and flatware for the dessert/coffee course. Set up and decorate the children's table if you are using one.
Your hard work and preparedness will set the stage for a beautiful day with family and friends. Enjoy!