Posted on
Madalynn Raab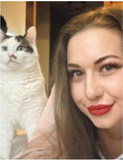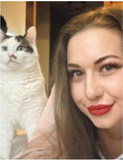 Madalynn Grace Raab, 25, of Bozeman died on Thursday evening, Oct. 27, 2022.
She was born July 22, 1997, to Jeanette Hellman and Brad Raab in Dickinson, N.D. She was always a friendly little girl with an amazing smile, a wonderful contagious laugh and a great sense of humor. She was the first to make friends with everyone and could converse with anyone. She had the ability at a young age to make these connections, which continued throughout her whole life.
She loved most her family, being the baby sister, and all the siblings' love they shared. She loved snuggling with her momma and received with joy the gushing of the love and attention. She loved all the Denver Broncos, Colorado Rockies and Avalanche games with her dad and family.
She attended Brockton Immersion at age four, where she started to learn the Dakota language. She was very intelligent. She always read at least five grades ahead of her grade level. She attended Brockton and Culbertson elementary schools, graduated from Culbertson High School in 2015 at age 17. She competed in sports though her school years, excelling in volleyball, getting her massive ace server skills from her dad.
She then attended college at Montana State University in Bozeman.
Throughout her work career, she deeply loved her work and work families, especially her boss Jason and family.
She was a strong, passionate and independent woman. She was a lifeguard for several summers at the Culbertson pool. At barely 100 pounds, Madalynn decided she was going to become a wildland firefighter. She completed the PAC test consisting of three miles, 45 pounds, for 45 minutes to earn her certification. She fought fire for the DNRC out of Lewistown.
She loved and lived life to the fullest in the great state of Montana, enjoying nature activities — hiking, snowboarding, downhill skiing, swimming, working out and bowling. She was also a very talented artist and played the piano and clarinet.
She is survived by her mother, Jeanette; father, Brad; brothers, Jeraco and Evan of Missoula; sister, Sarah of Williston, N.D.; and grandparents, Magdalena Hellman, Harlan Raab and Verlene (Dave) Goodrich.
Funeral services were held Friday, Nov. 4, at St. Joseph's Catholic Church in Williston, N.D.