Posted on
Burciaga Finds Joy In Activities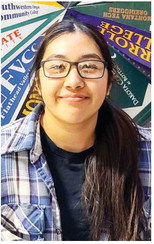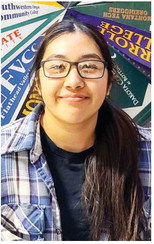 Senior Profile
Culbertson High School senior Perla Burciaga is currently active in school activities and that's a habit that she might not want to end because her career plan is to become an elementary teacher.
"I want to become a teacher because of the influence by my firstgrade teacher," Burciaga said.
She explained that Wendy Nickoloff showed her that being a teacher is a fun and important job to have for a person.
One of Burciaga's favorite recent activities was helping the school's Jobs for Montana Graduates' program conduct a Glow Walk on Sunday, Oct. 30. She noted the event was different than normal because a haunted house was offered and there was also games for little children.
"I thought there were a lot of people," Burciaga said of the community's turnout.
She also enjoys band. She has played the tenor saxophone since the sixth grade.
Her favorite teacher is band instructor Jennesy Taberna.
"She's always been there, and I can talk to her about anything," Burciaga said.
She is making the most out of her senior year as she is back in choir for the first time since sixth grade and she has joined the school's Business Professionals of America organization.
"I was just wanted to increase the amount of clubs I was in at school," she said.
Classmate Makena Hauge urged Burciaga to join BPA. Burciaga is still deciding what competitions to enter for BPA.
As far as athletics, she is a starter in volleyball and basketball. She competes in the shot put and discus during track season.
Her favorite class is history with teacher Dave Solem. She plans to attend either Minot State University or Dickinson State University.
She has been a student in Culbertson since the first grade.
"I like the way that the community is close and like a family," Burciaga said. "You don't need to introduce yourself to people."