Posted on
Garfield Excels In Acting, Cheer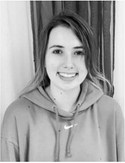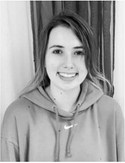 Wolf Point High School student Julianna Garfield was part of the cast that delighted audience members with a school play performance last week. Such activities are very important to the senior.
"I love acting," Garfield said. "It's so fun. I've met a lot of people doing it."
She has performed in five school plays so far. Her favorite one has been the comedy mystery "Moriarty's Revenge" last spring.
"I loved my character because he was an evil sidekick," Garfield laughed.
She enjoys acting so much that she plans of pursuing roles when she attends college. "It will be a side thing," she added.
A new adventure for Garfield is being a member of the school's speech and drama team. "I don't know what to expect," she said about her first year in the program.
She will compete in humorous oral interpretation. She picked the category because she likes comedy and it was recommended to her by her coach.
Cheer has been a big part of her life. She along with teammate Rebekah Landsrud were selected All-Americans by Varsity Spirit Summer camps. All-Americans are based on superior cheerleading or dance skills as well as leadership skills at camps.
The two Wolf Point cheerleaders will represent Varsity Spirit during the Pearl Harbor Memorial Parade in Honolulu, Hawaii, this December.
She is looking forward to the basketball season for the cheerleaders. "I'm proud of everyone so far," Garfield said of the squad. "We're grown a lot in the last few months."
Her favorite classes are government and drama. She also enjoys singing in choir.
Favorite teachers include Jacob Boysun and Jerry Worley.
Garfield said her role models include her parents and Rebekah Landsrud. "She's my best friend. We usually help each other to keep our heads in the game."
She appreciates growing up in Wolf Point.
"I like that you know everyone in the community, so you feel comfortable," Garfield said. "There are a lot of good people in the community."