Posted on
Landsrud Finds Pleasure In Music, Cheer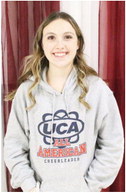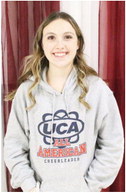 Wolf Point High School senior Rebekah Landsrud simply loves the activities she's involved in at the school.
That is so much the case that she has a hard time when asked if she prefers cheer or swing choir or pep band.
"I like my music activities, but I also like cheer," she explained.
The National Honor Society student plays alto saxophone for the pep band and clarinet for concert band.
She enjoys performing the more modern and popular number selections in pep band. Her favorites include "25 or 6 to 4" by Chicago and "Come Go With Me."
What she likes about swing choir is working with other students to create great harmonies in songs. "I like the group of people I'm with," Landsrud said. "You can be yourself and not have a lot of judgments going on."
Her dedication to music resulted in accomplishments during music festivals last spring. She received I's for clarinet solo, vocal solo and vocal trio at the district music festival. She then earned an I for vocal trio and clarinet solo at the state level.
Landsrud's love for music has to the decision of wanting her career to be as a music teacher. She has found that she really appreciates her time sharing her musical knowledge with elementary students.
Cheer has also been very beneficial to her throughout her high school career.
"I like to be able to do stunts and cheer on the teams regardless of how they are doing," Landsrud said.
She said one thing she always tries to do is keep smiling when she is cheering at games.
Because of her commitment to cheer and her ability, Landsrud along with teammate Julianna Garfield were selected All-Americans by Varsity Spirit Summer camps. All-Americans are based on superior cheerleading or dance skills as well as leadership skills at camps operated by Universal Cheerleaders Association, Universal Dance Association, National Cheerleaders Association, National Dance Alliance, United Spirit Association or Urban Cheerleading Experience.
Landsrud said she was surprised when her name was announced. "I was in shock," she noted.
The two Wolf Point cheerleaders will represent Varsity Spirit during the Pearl Harbor Memorial Parade in Honolulu, Hawaii, this December.
Landsrud said she's is grateful to the people who are close to her.
"I like the friends I have and the support I have," she said.