Posted on
Avoid Halloween Makeup Allergies And Other Reactions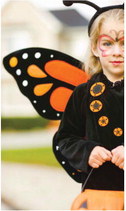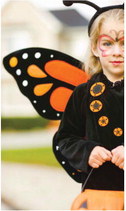 What are the horrors of Halloween? Many might say encountering a gruesome ghoul or a blood-sucking vampire is the most horrific part of Halloween. However, an allergic reaction can be just as scary as ghosts and goblins come Halloween.
The candy a child eats, the makeup children use as part of their costumes or even the costume itself can cause an allergic reaction. Parents and children need to be careful and exercise their due diligence to avoid possible allergens.
Makeup
According to the American College of Allergy, Asthma and Immunology, Halloween makeup can trigger an allergic reaction or symptoms of asthma. Inexpensive makeup may contain preservatives that can cause a rash and swelling of the skin. Formaldehyde is a very common preservative used in many of these products, but some products labeled "formaldehyde-free" can still cause allergic reactions. Certain makeup is not advisable to use around the mouth or eyes, so be certain to check all packaging for any warnings. High-quality theater makeup may be a better option than the cheap crayon sticks sold at costume stores. In any event, always test makeup on a small area of the skin well in advance of Halloween. If a rash or any abnormality occurs, do not use the makeup.
Costumes
Costumes can induce an allergic reaction as well. If costumes are older and packed away in a basement or attic, trapped dust and dust mites can make it difficult for those with allergies or asthma to breathe. Accessories used for many common Halloween costumes also may cause reactions. Crowns, magic wands and faux jewelry that uses metals like nickel may cause rashes and irritation. Beware of nickel and cobalt, which can trigger allergic reactions.
Decorations
Those who want to create a spooky environment at their Halloween parties should be advised that fog machines can trigger asthma attacks in some people. It's best to check with party attendants before firing up the fog machine.
Edible Treats
Food allergies abound in children and adults. Many commercially produced candy and chocolate bars are manufactured in factories that also process peanuts and other tree nuts, so exercise caution with treats. Baked goods may contain wheat, gluten, eggs, soy and any number of other food allergens. It's wise to have a variety of inedible treats available for trick-or-treaters or party-goers, including stickers, pencils and small toys.
Halloween should be an enjoyable day for the young and the young at heart. This beloved holiday can be made safer by avoiding common allergy triggers.